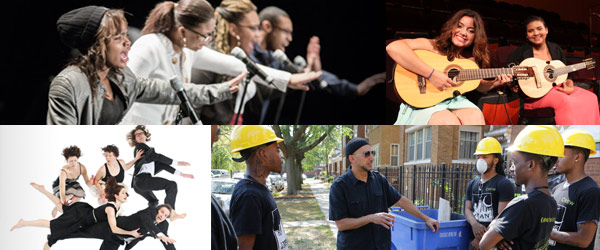 MacArthur recently held a public conversation on how the arts can serve as an economic driver and community connector, helping to build a more inclusive economy for our city. Coval served as a panelist.
There is nothing romantic about starving for your art, or anything, unless it is a hunger strike like the women who built the Social Justice High School in Little Village. They made a decision to put their bodies in jeopardy to hold the city of Chicago and Chicago Public Schools accountable for what they promised.
But artists should eat. The notion, trope, the romance, we have for the starving artist allows us to undervalue artists themselves and the arts in general, in culture.
I am tired of being the most creative, intelligent, most-in-the-know, and coolest person at the table and yet also and always the brokest. Companies, foundations, cultural and arts institutions, and universities invite me to tables in my role as a poet, organizer, arts educator, or artistic director of Young Chicago Authors. And I feel compelled to show up because of the potential of the conversation or the platform it might lead to, personally and/or for the communities I advocate for and am a part of. But these tables need to be equitable.
Part of that is, I, personally as an artist from a working-class background, whose father is an Uber driver out of necessity still, have to be less afraid of money. If you don't come from it, money remains foreign. The wealthy seem to be able to monetize everything, all too often at the cost of the working.
Being an artist in Chicago means I will work forever. The city's ethos is permanently placed at the core of my practice. My whole life rooted in waking up at the same time each morning, 7:23 a.m., to write. I look at a picture of Ms. Gwendolyn Brooks at my right hand and Nelson Algren at my left hand and I work for as long as the day allows.
But there is so much money creatives make for a city, so much labor we are never compensated for. Look at Wicker Park, the neighborhood my family moved to from the Ukraine in 1906, the same blocks Algren slunk around and wrote about. The same neighborhood I moved to as a young man to participate in a new genre and racially diverse artistic community. The same neighborhood Young Chicago Authors has been in for 26 years and now all of us can no longer afford to live in.
The ways Wicker Park gentrified became a model for rest of the city and country. And yet the artists who made it cool, a destination, who created public and civic spaces in bars and lofts and made it safe in the minds of real estate investors and newcomers—most of the artists were never compensated for their labor, much less the working people displaced from the neighborhood prior to their arrival. Hipsters were native to Wicker Park long before Brooklyn and the model of the arts as a site for urban renewal is not new, it is also something most artists will never benefit from.
There is a power to ensuring the arts remain undervalued. The artist is in part a disruptor of norms. The arts themselves a vehicle for the radical imagination to unfurl in the civic space, which is part of the reason the arts are the first to disappear from public education. Politicians and protectors of the status quo are right to fear and misunderstand the arts.
But artists are some of our greatest resources. Historically and currently too often Chicago has lost some of our best and brightest to the coasts where creative industry has infrastructure and funds to prop it up.
We are in a moment of renaissance, perhaps the most powerful our city has ever seen. Young artists are craving a new sound and style at the vanguard of expression and thought. As a city and culture, we would be wise to devise strategies and pathways and economically viable means to keep them here and to ensure we continue to thrive as a city and citizenry.
View video of the entire event.
More Information for Chicago's Creative Sector
---
Among the existing resources and opportunities that address needs identified during the recent event, we encourage you to learn more about the following organizations*:
Partners for Sacred Places is an online forum where houses of worship and cultural organizations seeking space for their work can find one another. Registration is free and can be initiated by a sacred place or space sharing partner.
Forefront's Mission Sustainability Initiative offers advice, consulting services, and toolkits regarding strategic partnerships; and grants to selected nonprofits for one-time, out-of-pocket costs incurred in exploring or implementing long-term or permanent collaborations.
Enrich Chicago is an arts-led movement to undo racism. Its programs include Undoing Racism® Community Organizing workshops for arts and civic leaders and the Arts Administration Pathways Club, being piloted with ChiArts, to connect ALAANA (African, Latinx, Asian, Arab, and Native American) students with mentors, professional opportunities, and paid internships.
Arts Alliance Illinois is expanding its existing membership programs for nonprofit arts and culture organizations to include for-profit creative enterprises, arts-centered trade schools, colleges, and universities. It is also disseminating the results of Americans for the Arts' Arts & Economic Prosperity 5, a comprehensive study with customized findings for 341 unique regions, including Chicago.
*MacArthur provides support to the organizations listed here, as well as Young Chicago Authors.