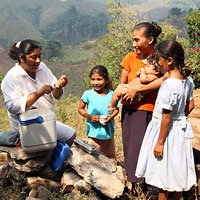 The challenges of poverty, population, health, conservation, and human rights around the world are interconnected, requiring sustained and comprehensive interventions. Recognizing the need for a new approach, MacArthur is supporting the first global initiative to provide rigorous, cross-disciplinary professional training for future leaders in sustainable development.
At A Glance
Since 2008, the MacArthur Foundation has awarded grants totaling $16 million to 20 institutions of higher learning in 15 countries to create new, graduate Master's in Development Practice programs, with the long-term goal of establishing a new field of development practice.
The new, two-year Master's in Development Practice programs provide graduate-level students with the core skills and knowledge required of a development practitioner to engage with specialists across multiple fields.
The creation of these programs is an acknowledgement that addressing extreme poverty and sustainable development throughout the world requires expert knowledge and an interdisciplinary approach.
Get the complete grantmaking details by downloading the information sheet below.