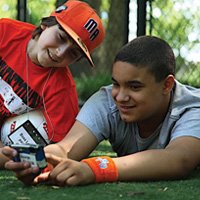 At a Glance
MacArthur launched the digital media & learning initiative in 2006 to explore how digital media are changing the way young people learn, socialize, communicate, and play.
Since 2006, the Foundation has awarded grants totaling more than $100 million for research, development of innovative new technologies, new learning environments for youth, including a school model based on game design principles, and efforts to build the new field of digital media and learning.
The goal of the grantmaking in digital media and learning is to create more opportunities for more young people to achieve the time-honored outcomes of a good education—career, academic, and civic success—through the adoption and use of a simple set of principles that re-imagines how young people learn and how that learning is supported.
A new framework for thinking about learning—connected learning—has emerged as a result of the grantmaking. It draws on successful approaches of the past, is based on evidence of what works best in the contemporary context, and is designed for the digital age.
MacArthur supports demonstration sites that put the connected learning approach into action. They include Hive Learning Networks, Quest to Learn schools, and YOUmedia, an innovative teen space for engagement and learning.
View the complete grantmaking details by downloading the information sheet below.