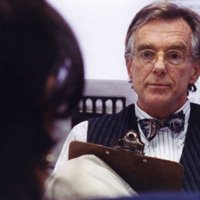 Well-Founded Fear
2000
Directed by Shari Robertson and Michael Camerini
The Epidavros Project / Epidoko Pictures
New York, NY
Well-Founded Fear is a feature documentary film that examines what goes on behind the electronic doors of the asylum office, the dramatic real-life stage where American ideals about human rights collide with the nearly impossible task of trying to know the truth. It is an intimate world never before seen on screen – asylum officers, lawyers, translators, economic migrants, legitimate refugees looking for protection, all focused on the confidential interviews that are the heart of the asylum process. With unprecedented access, Well-Founded Fear enters the closed corridors of the INS (the U.S. Immigration and Naturalization Service) for an extraordinary close-up look at what has been called the Ellis Island of the 21st Century. The documentary has become a core curriculum element in most immigration law programs, as well as central to training of each new class of Asylum Officers in the US Department of Homeland Security.
Learn more about the film, watch additional video, download discussion guides and meet the filmmakers on the POV website.