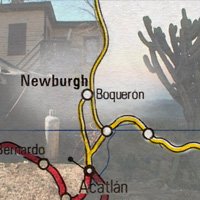 The Sixth Section
2003
Directed by Alex Rivera
Rabble Rouser Media Inc. / Second Generation Media
New York, NY
This 30-minute documentary blends digital animation, home video, cinema verité and interview footage to depict the transnational organizing of a group of Mexican migrants in upstate New York. Filmmaker Alex Rivera documents their struggle to support themselves — and Boqueron, Puebla, their hometown 3,000 miles to the south. To do this, the men form a group that raises money in the form of weekly donations of $10 or $20 from each of its members in New York. In the past few years the group has brought electricity, an ambulance, and, most dramatically, a 2,000-seat baseball stadium to Boqueron. The Sixth Section is an intimate portrait of a transnational interpretation of the 'American Dream' by today's migrants.
Watch an 8-minute excerpt from 30-minute film below: