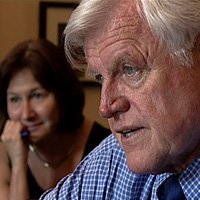 How Democracy Works Now: Twelve Stories
2010
Directed by Shari Robertson & Michael Camerini
The Epidavros Project / Epidoko Pictures
New York, NY
In August 2001, it seemed the stars were about to align for a sweeping overhaul of America's troubled immigration system. The gathering signs of a societal shift on the scale of the Civil Rights Movement were unmistakable. Outside public view, the Bush administration and key leaders in Congress were also thinking along similar lines. In response, a dozen crucial, engaging characters – a think tank expert, a union leader, a non-profit lobbyist, a Latino activist, business executives, politicians and Capitol Hill staffers – crafted an audacious new plan to reform the national immigration policy. Their "Grand Bargain" promised to change the lives of tens of millions of immigrants and affect every citizen and every state in the union.
How Democracy Works Now: Twelve Stories is a 12-part feature documentary film series that reveals this fight for immigration reform on Capitol Hill and across the country from 2001 to 2007 with unprecedented access and intimacy. Invited into the meeting rooms and secret conferences where heated discussions and private bargains had the potential to yield a breakthrough, veteran filmmakers Shari Robertson and Michael Camerini followed the democratic process close-up and across state lines, weaving cinema verité portraits of personal defeats and victories into a grand story arc.