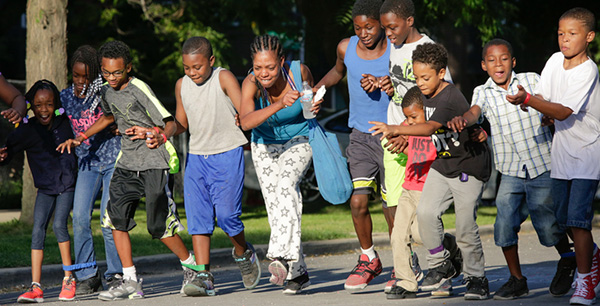 In August 2016, MacArthur, along with The Chicago Community Trust, the Joyce Foundation, the Robert R. McCormick Foundation, the Polk Bros. Foundation, the Woods Fund Chicago, and other funders joined together in support of immediate intervention to deter violence and promote peace in Chicago neighborhoods.
The Chicago Fund for Safe and Peaceful Communities is a $500,000 fund created in direct response to the many people and organizations who are proactively working to keep our neighborhoods safe over the Labor Day holiday and through the beginning of the school year. Grants were intended to bring residents together, often with local law enforcement, around constructive activities, to communicate their concern for their communities, "occupy" public spaces to crowd out violence, and to challenge the narrative that people are apathetic or paralyzed by challenges to the safety and security of their neighborhoods. The Fund was not meant to be a quick fix to the complex problem of violence; rather, its targeted investments supplemented each funder's intensive and long-standing efforts to develop sustainable, systemic responses to the root causes of the challenge.
Grants
---
The following 70 organizations were awarded grants from the Chicago Fund for Safe and Peaceful Communities in summer 2016, for projects serving the diverse neighborhoods listed.
ABC Pilsen Athletics
Little Village
Academy of Scholastic Achievement
Austin, West Garfield Park, East Garfield Park
Africa International House USA
Washington Park
All Family Active Organization ALFA Corp
Pilsen
archi-treasures
Uptown
ArtReach at Lillstreet
Englewood, Lawndale, Pilsen, Austin, Garfield Park, Hyde Park
Austin Community Family Center
Austin
Barbara A. Sizemore Academy
Englewood
Better Sister Network
Englewood
Beyth-el Temple
South Chicago
Black Oaks Center for Sustainable Renewable Living
South Shore
Blue Sky Rhythm Productions
Englewood, Roseland, Auburn Gresham, North Lawndale, South Lawndale, Douglas Park, Homan Square
Breaking Bread
Chatham, Greater Grand Crossing, Auburn Gresham
Brothers Standing Together
Near North, Gold Coast, Old Town, Cabrini Green
Center for Community Development Initiatives
West Chatham
Central States SER
Little Village
CHI-RISE
Auburn Gresham, Roseland
Chicago Park District
Little Village
The Church On The Way Praise Center
Ashburn, Auburn Gresham
Common Ground Foundation
Near Westside
Commonwealth Foundation
Pilsen
Community and Family Partners
Near Westside
Ditch the Weight & Guns 5K Walk & Run
West Englewood, Englewood
Donda's House
Auburn Gresham, Englewood, Chatham, Greater Grand Crossing, Roseland, Marquette Park, Ashburn, Brainerd
Forward Momentum Chicago
Englewood
FOUS Youth Development Services
Roseland, West Pullman
Free Lunch Academy
Englewood, Chatam, Roseland, Aurburn Gresham
Gardeneers
North Lawndale, East Englewood
Gary Comer Youth Center
Greater Grand Crossing
Girls Like Me Project
Bronzeville, Douglas, Grand Boulevard
Greater Rock Development Corporation
North Lawndale
Hip-Hop DetoxX
Englewood, Chatham, South Shore
I Can Outreach
Gage Park
I Grow Chicago
West Englewood, Englewood
I-Matter-II
Bronzeville
Kells Park Community Council
West Humboldt Park, Garfield Park, Lawndale, Austin
Lost Boyz
South Shore
Major Adams Community Committee
Near Westside
Metro Vision Partners, NFP
West Pullman
Metropolitan Tenants Organization
Englewood, Roseland, Near West Side
Mothers Against Senseless Killings
Englewood
Near North Unity Program
Cabrini Green
New Life Centers of Chicagoland, NFP
Little Village, South Lawndale, North Lawndale
New Life Covenant Church Southeast
Greater Grand Crossing, Avalon Park
North Lawndale Employment Network
North Lawndale
Northwest Side Housing Center
Belmont Cragin
Oak Park Regional Housing Center
Austin
Peace Makers Worldwide
Chatham, Woodlawn
People's Community Development Association of Chicago
East Garfield Park, Humboldt Park, Ogden Park, Washington Park
Port Ministries
Back of the Yards, Englewood
Puerto Rican Arts Alliance
Avondale
Purpose over Pain
Washington Park, Roseland
Real Men Charities
Englewood, Auburn Gresham, West Englewood, Washington Heights
Restoring the Path (Crushers Club)
Englewood
Salvation Army Englewood Red Shield Center
Engelwood, Gresham
Sankofa Safe Child Initiative
North Lawndale
Scouting Network
Morgan Park
South Shore Drill Team & Performing Arts Ensemble
Englewood, West Englewood, Chatham, South Shore, South Chicago
Southwest Organizing Project
Chicago Lawn
St. Titus One Mission Baptist Church
West Pullman
Telpochcalli Community Education Project
Little Village
Unity Park Advisory Council c/o Friends of the Park
Logan Square, Avondale, Hermosa
Urban Male Network & Ladies of Virtue
Near West Side
Washington Park Advisory Council & Washington Park Residents' Advocacy Council
Washington Park
We R Englewood
Englewood
West Englewood United Organization
West Englewood
West Humboldt Park Development Council
West Humboldt Park, Garfield Park, Lawndale, Austin
West Side Cultural Arts Council
East Garfield Park
Westside Health Authority
Austin
Working Bikes
Auburn Gresham