Bringing grants to life
Most of what MacArthur accomplishes does not happen in our offices on South Dearborn Street in Chicago. Our mission is to empower creative people and organizations across the U.S. and around the world; their achievements justify our existence as a private foundation. This brief essay is a tribute to our grantees, with a focus on those I have met, and a consideration of how foundations go about their work.
Since becoming president of MacArthur, I have travelled to each of the countries in which we have offices (India, Mexico, Nigeria, and Russia), to some of our grantees in the United States, and to many of the organizations we support in Chicago. I have learned that time spent with grantees in the field brings to life the challenges they face, the expertise they bring to bear, and the complex environments in which they work.
I have seen conservationists trying to save biodiversity in the forests of Madagascar, courageous human rights workers in Moscow and Lagos, and doctors training traditional birth assistants in Rajasthan and Chiapas. I have seen juvenile justice practitioners rehabilitating young offenders in Louisiana; community financing experts bringing affordable credit to low-income people; groups in Chicago's neighborhoods building community and creating opportunity; and arts organizations reaching out to underserved schools, lifting the ambitions of students while honing their talents.
On each visit, I have come away more impressed with the quality of our grantees, their talent and creativity, their energy and determination—often in the face of overwhelming odds.
The Physics
My background in the world of nuclear issues leads me to think in terms of the sciences, pure and applied. To build a reactor or nuclear device one needs both physics and engineering. Philanthropy too has theoretical and practical dimensions.
For MacArthur, the "physics" is our framework of strategic grantmaking. We locate pressing problems, research ways to address them, and establish goals for what we hope to accomplish. When we set the direction of our grantmaking, we are choosing from an overwhelming array of worthy alternatives; it is vital that we choose wisely and plan carefully and realistically.
Our staff is experienced and accomplished in charting our course, refining our understanding of issues, and identifying the points at which our action would have the most leverage.
In most of our work, however, we are trying to have an impact on large, complex, and intractable systems. Changes in government, economic recession, or rising commodity prices can each upset a carefully prepared strategy and are entirely beyond our control. Still larger shifts, in political sentiment, or demography, or climate, can threaten gains we have made or unsettle our calculations for the future.
That makes an intimate knowledge of places, societies, and systems essential. Our grantees, on the front lines of engagement, have that knowledge. They can best outline a vision for practical change, and then find the strategies that are likely to work in their situations and the tactics to apply them in practice.
The Engineering
That is what I think of as "engineering": engineers realize the theoretically possible with the techniques and materials available. Like our grantees, they find ways to get things done.
Innovation
I have seen this tactical ability across the world, as grantees explore new ways to tackle challenges and accomplish their goals.
They use technology, as I saw in Nigeria, where young IT specialists working with the National Human Rights Commission were using mobile phones to monitor primary elections across the nation.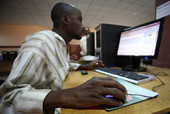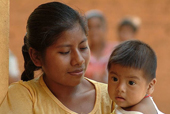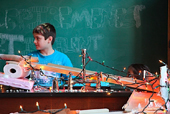 Conservation groups, such as Tany Meva in Madagascar, are introducing safer, efficient, renewable-energy stoves in rural areas, technology that both improves health and safety and conserves the forests.
The Quest to Learn School in New York is the first school with a pedagogical approach based on game design and systems thinking. Students use digital media platforms to learn through "missions" that help them inquire, create, and master both traditional competencies and the new skills the 21st century demands. The first ChicagoQuest campus will open in the fall.
Systems Change
Other grantees are helping to change large systems. Those participating in the Models for Change program are seeking to reform juvenile justice across America. I visited Louisiana, one of the states in which Models for Change is at work, and saw the Bridge City Center for Youth.
Bridge City shows the effects of reform. It has made a comfortable and personal environment to house young offenders, in contrast with the large (and sometimes dangerous) dormitories that are often the norm for young offenders in Louisiana and elsewhere.
I spoke with several of the boys and was struck by their vulnerability—and their potential. We owe young offenders a justice system that respects their dignity and gives them opportunities to be rehabilitated and reenter society.
In Mexico, I saw efforts to modernize that country's justice system. In 2008, the Mexican Congress passed a reform bill that replaces secretive, document-based trials with processes based on oral testimony—and in which the accused is considered innocent until proven guilty. The Pro Juarez Human Rights Center works with state governments to implement the legislation. We expect that the reforms will lead to more effective prosecutions as well as greater respect for the rights of citizens.
Many of the groups we support work in particularly difficult or dangerous situations; their perseverance keeps the hope of meaningful change alive.
Some of our grantees in reproductive health serve indigenous tribal populations far from cities and mainstream medicine. I visited two in Rajasthan, India: Seva Mandir is an organization working in remote villages, not served by government health programs, to train traditional birth assistants and create links to health care providers. Action Research and Training for Health addresses the shortage of doctors by training nurse midwives. They serve some 60,000 people but, as they made clear to us, their goal is to scale up their work to reach the more than 60 million people who live in Rajasthan. They are training staff from state government as a means to that end.
In Chiapas, Mexico, Kinal Antzetik is an organization dedicated to indigenous women's rights. They are also helping the region's 6,000 traditional midwives gain the skills they need and connect to the health system.
Some of our human rights grantees abroad confront repression and risk intimidation or violence. Organizations such as the CLEEN Foundation and Access to Justice in Nigeria and the Nizhny Novgorod Committee Against Torture in Russia tirelessly take on intractable issues. Their concerns include police reform, extrajudicial killings, and classic human rights such as free speech and equality before the law.
Discovery and Learning
MacArthur has a long tradition of supporting higher education and research, something I, as a former dean, particularly value.
I have been impressed by the quality and relevance of work MacArthur has supported.
I spent time with members of our research network on "How Housing Matters for Children and Families." This is an effort to build a base of evidence about the ways in which good, stable, and affordable housing serves as a platform for better outcomes in other areas—health, employment, education, or public safety.
In Russia, I saw how the New Economic School has helped create a new economics profession, free of Marxist-Leninist dogma, and build a leadership cadre for government, business, and the academy.
In Nigeria, we saw how our investment in staff development, information technologies, and infrastructure helped the University of Ibadan rebuild. It has now been selected as a regional hub for the Pan-African University. Pan-African is a project of the African Union that aims to create a continental network of institutions for graduate studies and research.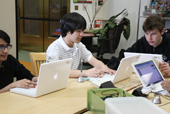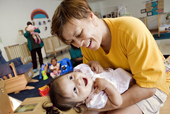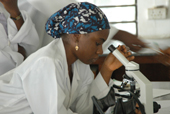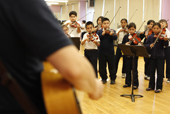 Building Institutions
Other grantees create new institutions. In North Carolina, I saw the Center for Community Self-Help (Self-Help) and the Center for Responsible Lending (CRL) helping low-income people gain access to capital and protecting them from predatory lenders. Self-Help has invested more than $6 billion in financing to more than 75,000 families, individuals, and organizations, more than 80 percent of whom are low-income borrowers. Self-Help created CRL to protect home ownership and wealth by working to eliminate abusive financial practices. CRL also has ambitious plans for a 250,000-member credit union in California that may help change the financial services industry.
The Chicago Public Library is leading the way toward libraries of the future. Hundreds of teenagers come daily to YOUMedia, the library's new 5,000-square-foot facility, which provides a place to hang out, use new media tools, record original compositions, interact with mentors, and make use of traditional print resources.
Across Chicago, MacArthur supports arts and culture organizations—some 200 in all. These groups and institutions create a network that strengthens the social fabric of the city and reinforces the work of schools and community organizations. The Chicago Shakespeare Theatre, for example, brings Shakespeare into public school classrooms; the Albany Park Theatre Project helps immigrant youth to tell their stories through drama (which also boosts their academic performance); and the Old Town School of Folk Music has become an economic engine for its Lincoln Square neighborhood as it attracts 7,000 pupils each year.
Focus on Pressing or Neglected Issues
Foundations are able to focus attention on issues that have been overlooked or need a greater degree of attention.
One of these has been the international migration of people—one of the least regulated and understood of our global systems.
MacArthur has been the largest nongovernmental donor to the Global Forum on Migration and Development since its inception four years ago. The forum provides an opportunity for government representatives and civil society to meet and discuss better ways to deal with the movement of people around the world.
I have attended two meetings of the forum, in Athens, Greece, and Puerto Vallarta, Mexico. Almost 150 governments were represented in Mexico. I learned from our grantees who attended the meeting, such as the Migration Policy Institute and Sin Fronteras, about the difficulties that beset migration between the United States and Mexico. The two nations have profoundly different views on migration, and the violence, crime, and exploitation on the border continue to give grave cause for concern.
Another issue MacArthur has addressed is the fiscal crisis America faces. We established an expert committee in 2009, under the auspices of the National Academy of Public Administration and the National Research Council of the National Academy of Sciences. The committee's report, Choosing the Nation's Fiscal Future, laid out the facts and identified various ways to remedy it. I have been impressed by the contribution the report made to the serious proposals put forward for action, and the ongoing contributions of its co-chairs: John Palmer of Syracuse University and Rudy Penner, former director of the Congressional Budget Office.
When I met with the co-chair of the President's debt-reduction commission, Erskine Bowles, he told me he had given our report to members of the commission and seen copies tagged and dog-eared in the halls of Congress—anecdotal but persuasive evidence of impact.
Inspiration
And, not least, our grantees can inspire. It has been a pleasure to visit our arts and culture grantees in Chicago and see their imaginative productions and exceptionally high standards they foster. I will not easily forget a dance class run by the Deeply Rooted Dance Theater, which was spending a year in a South Side high school. The focus, discipline, and commitment of the teacher electrified the dancers and, I am sure, will raise the students' expectations about what they are able to accomplish.
The Chemistry
If a foundation is to be a genuine catalyst for change, it must build relationships of trust and mutual respect with its grantees.
One of the most gratifying parts of my visits has been to see the warm and collegial relationships between our staff and our grantees. Wherever I have traveled we have been warmly welcomed, not only because we come bearing gifts but because our grantees feel that we have their interests at heart and share their vision.
This chemistry is what makes the MacArthur Foundation effective and keeps our grantmaking fresh and relevant, and I hope to foster even more of it in the years ahead.
ROBERT L. GALLUCCI
President