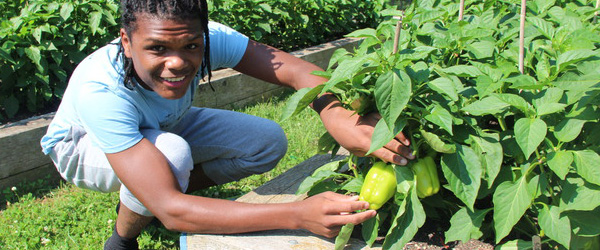 Jerome McCullough, 17, often gardened with his grandmother growing up in the Wentworth Gardens housing project on Chicago's South Side. His grandmother grew herbs, and McCullough's role was to "put seeds in the earth and add water."
When he joined the Youth Farm run by the Chicago Botanic Garden in the South Side neighborhood of Washington Park not far from his home, he took gardening to a whole new level.
"My favorite thing is prepping the beds, mixing in the compost and turning over the soil," McCullough says, as he shows off a bed he just planted with leeks.
The Botanic Garden's Youth Farm started 13 years ago with a farm in the Lake County Forest Preserve, and there are now four youth farms involving 100 high-school-age youth each summer. Two-thirds of the youth recruited for the program are considered to be "at-risk" because of violence and other challenges in their neighborhoods or surroundings.
The Youth Farm sparked a larger suite of urban farming and job training programs for youth and adults who have been involved with the criminal justice system, and for underemployed and unemployed adults. Taken together, they make up the Botanic Garden's Windy City Harvest program, which has 12 farms around the city and suburbs.
The Harvest Corps program trains and pays people age 17 and older who have been involved with the criminal justice system. They work at the sprawling, verdant Rodeo Farm on the Southwest Side, tucked between the county jail and a small rodeo arena, hence the name.
Graduates of both Youth Farm and Harvest Corps are eligible for the Windy City Harvest apprenticeship, a nine-month program which offers further pay, training, and advancement opportunities. Windy City Harvest also includes a business program that teaches aspiring farmers about markets, budgets and the like. And graduates of that program can apply for Windy City Harvest's business incubator, where participants get up to a quarter-acre of land to farm, access to Windy City Harvest's markets, further mentorship, and support.
Hence both youth and adults facing employment challenges including criminal records are offered a pipeline from basic training to jobs or even owning a small business.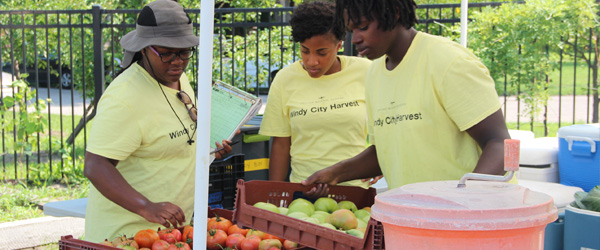 Windy City Harvest works with corporate and non-profit employers including Whole Foods, Olive Garden, Midwest Foods and many others to place program graduates in jobs. Ninety-one percent of apprenticeship graduates and 84 percent of Harvest Corps graduates have gotten jobs with food service and other employers, according to Windy City Harvest associate vice president Angela Mason. Additionally, 91 percent of Youth Farm graduates go on to post-secondary or vocational training, she says.
Planting the Seeds of Healthy Eating
---
Youth Farm director Eliza Fournier explains that the program's mission is to "EAT plants," an acronym standing for Education, Access, and Training.
"Planting a seed is such a hopeful act," says Fournier. "You put it in the ground and you don't really know what will happen. To see a pile of seeds grow into boxes and boxes of food is the perfect metaphor for how students grow. It's a lot about caring for something and observing it. You might see that these tomatoes all look great, except one plant looks sad. Just like you might have a group and one person is feeling low. Caring for the plants provides a perfect opportunity to talk about that."
To see a pile of seeds grow into boxes and boxes of food is the perfect metaphor for how students grow.
In addition to the Washington Park location, there is a youth farm in North Lawndale operated in partnership with the non-profit group NeighborSpace; the original plot in the Lake County Forest Preserve; and a farm in partnership with the citywide youth employment program After School Matters, at its downtown hub Gallery 37.
Youth are paid to work at the farms, a total of about $1,600 for the eight-week session.
On Wednesdays the youth sell their goods at a nearby farmers market
The youth also do presentations about nutrition and healthy cooking at the WIC centers where mothers, often with children and babies in tow, come to collect their benefits.
The teens say they have changed their eating habits since joining the Youth Farm. Not only do they take home armfuls of fresh fruits and vegetables, but they understand the risks of poor nutrition and know how to incorporate fresh produce into their diets.
"I was the type of kid stuck on junk, candy bars," says McCullough, noting he lost five pounds since he began working in the garden and eating healthier.
Esther Durosinmi, 15, moved to Chicago from Nigeria about two years ago. She had never been on a farm before joining the program. "I really love it," she says. "To see something you plant start to grow, and it's healthy, that feels good. And it feels like a family here. A lot of people who care about you, working as a team."
New Hope through Harvest Corps
---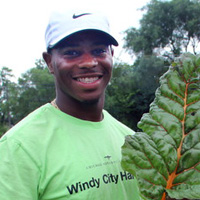 Stacey Kimmons, 27, grew up in the Robert Taylor Homes, one of Chicago's infamous high-rise public housing projects plagued by violence, drug-dealing, and disinvestment. Today the projects are torn down and partially replaced by a mixed-income development called Legends South.
Kimmons grows food right here, on the business incubator plot he earned at Windy City Harvest's Legends South farm. After a brush with the criminal justice system, Kimmons joined the Harvest Corps program in 2013 and then moved up through each step of Windy City Harvest, working as an apprentice, completing the business program, getting an incubator plot and also a job as coordinator of the Rodeo Farm.
"I love this," Kimmons says. "Even in the rain, it's hard but you don't want to stop working because you're so dedicated to it."
Kimmons previously worked at Windy City Harvest's rooftop garden at the Hilton Chicago Hotel downtown, where executive chef Mario Garcia is a mentor for the program. Kimmons is also starting culinary school at Kennedy King College to hone his skills cooking the food he grows.
Windy City Harvest has transformed not only his employment situation and prospects but also his eating habits. He became a vegetarian and then a vegan after joining the program; one of his favorite dishes is sautéed Swiss chard with mushrooms, onions and vegan cheese. He loves cooking such healthy dishes for his kids – two sets of twins who are two and three years old.
"They'll definitely be farming with me," he says, "As soon as they're a little older."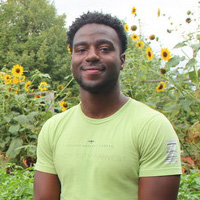 The daughter of Harvest Corps graduate and apprentice Dantrell Dehart is only two years old, but Dehart already has her gardening and working with produce. She loves watering the flower garden in their new South Loop home, and on one Friday in August, Dehart, 23, planned to pick cucumbers to make pickles with her over the weekend.
Dehart supervises the Windy City Harvest farm at the Arturo Velasquez Institute on the Southwest Side, not far from the Rodeo Farm.
Dehart grew up nearby in the hardscrabble North Lawndale neighborhood, watching his uncle gardening but never interested in helping. Now he revels in nurturing plants and learning new things about them. Like the way alyssum flowers attract parasitic wasps that keep tomato hornworms at bay. Or how Golden Glory squash can grow an inch in a day.
"Seeing things grow from start to end, it takes me out of this world," he says. "It puts me in another place."