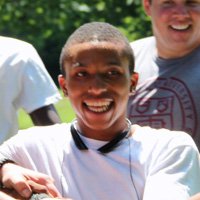 Growing up in South Chicago, Kevin McNair felt he couldn't trust anyone.
"How I grew up, with what I had seen and heard, it was a way to protect myself," he says. "If you avoid trust, you avoid vulnerability."
Now McNair, 18, feels differently. An inherently shy person, he says, he now speaks his mind, connects with people...and trusts them.
McNair explained this shift in the speech he gave at the University of Chicago this summer during the graduation ceremony for Urban Warriors, a program based at the YMCA of Metro Chicago that brings together military veterans and Chicago youth from neighborhoods where the gunfire and death toll in the streets can often mirror that in foreign war zones.
McNair learned a lot about trust from Justin Smith, a former Marine who is part of Urban Warriors. In one of the organization's weekly Saturday discussion sessions, Smith described the period – before entering the service – where he lost his parents' trust because he was spending a lot of time partying and he had stolen from them. Smith explained how he regained that trust and changed direction in his life.
"You don't think vets would have the same problems as you. You think they have the perfect life," says McNair at an Urban Warriors cookout on a warm July afternoon, taking a break from a game of 16-inch softball. "But they talk about their problems, anger, always being ready to fight."
During Urban Warriors' 16-week sessions, veterans from the Army, Marines, Navy, and Air Force are positioned as mentors for young people. But the veterans also end up learning, growing, and healing thanks to their connection with the youth.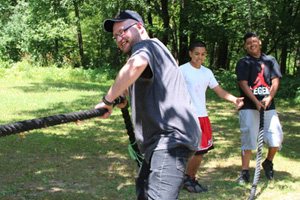 Chad Wichmann served in the Army in Iraq and struggles with post-traumatic stress disorder and other mental health issues. He found Urban Warriors is "as much therapy for me as it is for them." He notes that the session focused on "death and dying" and a visit to a military cemetery were particularly powerful.
Xavier Diaz, 13, describes Wichmann as "my veteran." He has warm memories of making rubbings of gravestones at the military cemetery.
"We live in Chi-raq," Diaz says. "Mostly all we think about is staying safe."
Surveys done by Urban Warriors show that 88 percent of participants have had close friends or family members killed, 76 percent have seen someone shot or shot at, 27 percent have been arrested, and 45 percent have carried a hidden weapon.
"They feel they have to do this to protect themselves," said Urban Warriors founder Eddie Bocanegra, who is executive director of YMCA of Metro Chicago's Youth Safety and Violence Prevention initiative.
A growing body of research shows that youth growing up in violent neighborhoods suffer profound psychological and neurological ramifications from the trauma and constant stress created by violence. Meanwhile, in the past decade or so, society, government, and healthcare institutions have increasingly understood and acknowledged just how deeply combat affects veterans' mental health and brain chemistry.
"…88 percent of participants have had close friends or family members killed, 76 percent have seen someone shot or shot at…
When youth are able to develop connections and trust with veterans, they can talk about their experiences with violence. They also have conversations and do fun activities that don't explicitly deal with violence at all. But there is an underlying level of comfort knowing the veteran can relate to what they have been through, young participants say.
Bocanegra founded Urban Warriors inspired by his own family's experience. Three of his brothers served in the armed forces; during one brother's second tour in Iraq, an explosion "rattled his brain" and caused him to lose 85 percent of his short term memory, Bocanegra explains. Meanwhile, growing up in the Little Village neighborhood on the Southwest Side, Bocanegra saw plenty of violence and chaos in the streets.
"We made connections between the symptoms of PTSD that my brother had and what was going on with me, with my experience in the streets and penal institutions," says Bocanegra, who also worked for CeaseFire and is featured in the award-winning documentary "The Interrupters" about peer-to-peer efforts to combat violence using an epidemiological, public health-based approach.
Bocanegra notes that in neighborhoods like Little Village and South Chicago, it is rare for youth to visit a mental health professional. Families are often low-income and lack access to health care. In many African American and Latino communities, there is significant stigma around mental illness.
"Seeking therapy can be really taboo in our communities," says Bocanegra. "We don't talk about these things. They are normalized and healing doesn't take place. We learn to cope, but it's maladaptive. There's a lot of drinking, smoking weed."
Even trained mental health professionals who have not grown up in neighborhoods with high rates of violence may not really understand the experiences and struggles of youth there. That's where Urban Warriors' approach is unique, connecting youth with trained social workers as well as mentors who have been through similar experiences, both on urban streets and foreign battlefields.
Urban Warriors' partnership between veterans and youth has been a pilot project for three years, involving more than 100 young men in the neighborhood of South Chicago, the West Side neighborhoods of Humboldt Park and Garfield Park, and the Southwest Side neighborhoods of Little Village and Pilsen. This summer, Urban Warriors is expanding with the launch of a program for women veterans and local teen girls, to be held at their West Side site.
Bocanegra notes that while young men and boys are more likely to be the perpetrators and victims of street violence, girls and young women also play a role and are also severely affected by violence.
"Our society tends to look at violence as a male-dominated issue," he says. "It's true the shootings reported are predominantly males." But often the social interactions that precede violence involve young women. "For example around social media – things stem from miscommunication, something blown out of proportion, people's egos getting in the way. A guy is flirting with a girl and another guy feels offended by it or disrespected. Or a guy feels protective of his sister when a guy is flirting with her. Situations where rumors spread."
Negotiating social dynamics, dealing with emotions, and handling the responsibilities and demands of daily life are all things that Urban Warriors talk about in weekly sessions focused around certain topics including identity, bereavement, and suicide.
A 14-year-old participant who asked his name not be used says that his favorite Urban Warriors discussion focused on what it means to be a man. "It means taking responsibility for your actions, doing what you need to do," he says.
William Schranz, a Navy veteran and recruiter for Urban Warriors, remembers a light-hearted angle to that discussion: the young men giving him dating advice. As heavy as the discussion topics are, there is often plenty such cheerful conversation among the Urban Warriors, like friends just hanging out.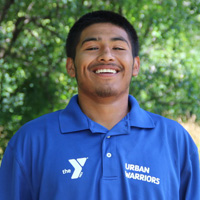 Cesar Torres, 17, says Urban Warriors has helped him change direction in his life: "As a little kid, I would go towards the violence instead of walking away, monkey see, monkey do," he says. "But people gave me the tools to be strong, to be a leader, to make my own road."
Growing up in Little Village in a city as segregated as Chicago, he initially assumed that few white men could relate to experiencing violence. But veterans in the program are from a variety of backgrounds. Meeting them and participating in the group activities exposes youth to a range of new experiences and opens their eyes to opportunities and possibilities beyond their own neighborhoods.
"We're learning from each other, an adult can give a young guy advice and a young guy can give advice to an adult," Torres says. "You see his skin color, and you think he doesn't even know what I've been through. But he does. I never knew you could get to know someone so well so quickly. We're family."
---
Since 2014, MacArthur has provided $400,000 to the YMCA of Metropolitan Chicago to support the Urban Warriors program.