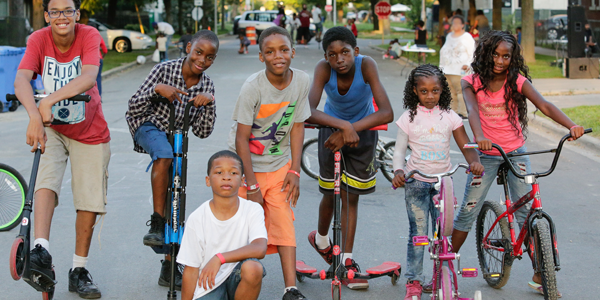 Alex Anaya believes it is possible to teach life lessons through basketball. So every Saturday afternoon he trains more than 150 children in the sport that he once played in college, hoping to keep them safe and put them on a positive life path.
But there is a catch: A child cannot play in the Pilsen clinic if he does not complete one hour of required weekly academic studies and maintain a C average or better.
"We all know education is the key to everything," explained Anaya, founder and executive director of ABC Pilsen Athletics, which also requires participants do 10 hours of community service annually and meet with tutors if they struggle academically.
The Chicago Fund for Safe and Peaceful Communities awarded grants of up to $10,000 each to 70 different nonprofit organizations to keep neighborhoods safe over Labor Day and into the school year.
As the number of homicides in Chicago reaches its highest level in years, Anaya's organization and others are working hard to help prevent violence by encouraging Chicago's youth to make wise decisions.
To help them, MacArthur teamed up with The Chicago Community Trust, Joyce Foundation, the Robert R. McCormick Foundation, the Polk Bros. Foundation, the Woods Fund Chicago, and others to form the Chicago Fund for Safe and Peaceful Communities. The project established a $500,000 fund that it used to grant up to $10,000 each to 70 different nonprofit organizations to keep neighborhoods safe over Labor Day and into the school year.
The Fund was not created to be a quick fix to the complex problem of violence. Rather, it was designed to help prevent a spike in violence over the holiday weekend and beyond by offering quick and focused support to organizations that already are working to address some of the root causes. The money went to nonprofits that wanted to organize events that would bring together communities, support constructive relationships between police and residents, and attempt to reduce violence.
Indeed, the program was so popular all of the grant money was awarded. Organizations like ABC Pilsen Athletics used the money to hold basketball tournaments, distribute school supplies, give free haircuts, serve up free meals, and give police a chance to interact with different communities.

"By interacting with our youth and engaging with our youth, it shows them that people do care and that you can make changes in your community," said Jean Khut, communications coordinator for Working Bikes, which gave away more than 100 bicycles and helmets at a Labor Day event at St. Sabina Church in the Auburn Gresham neighborhood.
The challenges these organizations face are not small. The number of shootings and murders in Chicago have surpassed New York City and Los Angeles combined. In many neighborhoods that are experiencing significant violence, intergenerational poverty and hopelessness are pervasive, said Arthur Lurigio, a professor of criminal justice and psychology at Loyola University Chicago who has studied Chicago violence for more than 20 years.
Yet the community-based nonprofits are optimistic their work can make a difference. The alternative is to suffer the pain that Annette Nance-Holt has faced daily after her only child, Blair, a 16-year-old honors student, was murdered in 2007 when struck by gunfire on a crowded city bus.
A lot of young people, all they need to know is two things: someone is listening and someone cares and loves them.
"It wiped out my family, basically," said Nance-Holt, a founder of Purpose Over Pain, which helps others families who have lost loved ones and holds events to promote peace. "My hopes of any grandchildren or seeing a wedding or college graduation died."
Purpose Over Pain also mentors youth and recently held a concert at DuSable Museum of African American History to end gun violence that was supported by the Fund.
"A lot of young people, all they need to know is two things: someone is listening and someone cares and loves them," she added. "That's all that's missing. It doesn't cost anything for any of this."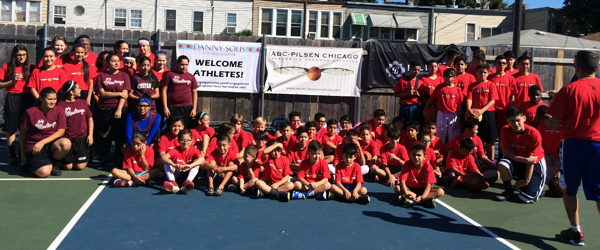 Raymond Richard knows how difficult life can be when wrong decisions are made. Growing up in the former Cabrini Green housing project, he joined a gang, served six stints in prison, attempted suicide three times, and became addicted to drugs. He ended up homeless, foraging for food in garbage cans and panhandling.
One day in 2006 when he was getting high on Lower Wacker Drive, he had an epiphany. He asked God to help him make a better life and promised he would help others in return. He sobered up and now runs Brothers Standing Together, a group he formed in 2013 that does everything from help ex-convicts get their records sealed to run basketball tournaments and offer a multi-week mentoring program for at risk youth.
Richard says his background gives him street credibility and insight into what people need to improve their situation. In addition to mentoring, he holds community events to bring people together in a peaceful manner like one on Labor Day that drew more than 500 people to Seward Park on the Near North Side for basketball, face painting, and other activities.
"We have to have alternatives for our youth," he said. "They need someone to talk to. They need guidance and they need direction."
Tamar Manasseh decided to offer people a safe place to go in Englewood after learning of a 34-year-old woman who was shot in June 2015 near West 75th Street and South Stewart Avenue. Fed up, she grabbed some friends, a few chairs, and a grill and planted herself on the corner, barbequing free meals for people on the block hoping to prevent a retaliatory shooting. Manasseh and a team of volunteers have been there every summer day since, serving food, talking to people, and offering children's activities. In that time there has not been a single shooting, turning what Manasseh said was one of the toughest blocks in Chicago into one of the best.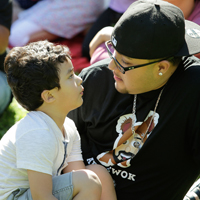 "They used to say that in the beginning I was crazy," said Manasseh's whose group is called Mothers Against Senseless Killings (MASK). "Now it's not so crazy. In a city where 500 people have been shot this year, nothing has happened on that block. Whatever we are doing there is working."
Manasseh and MASK have attracted national attention and drawn people from as far as Michigan who either sit with her or drop off supplies. Over Labor Day, her organization gave out thousands in school supplies and school uniforms, and held a block party that featured horseback rides, a bouncy house, and a basketball tournament, among other things. This winter she intends to hold Friday night fish fries across the city to bring people together.
"People are so afraid of each other in this city," she said. "This is about letting people in. It's about love. It's about giving hugs. It's about family. Because that's what gangs provide. They provide a sense of family and this is an alternative to that."
Manasseh believes everyone needs to do something to make a difference, no matter how small the task.
"Everyone in this city should pretty much be at their breaking point," she added. "How many more lives have to be lost before we say enough is enough."
---
MacArthur provided $100,000 to the Chicago Fund for Safe and Peaceful Communities through a grant to the Chicago Community Trust.