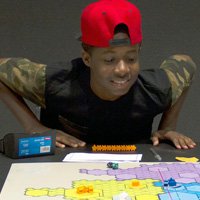 Pregnancy, sexually transmitted infections, and messy emotional relationships are not typical fodder for board games or video games.
Typical gamers are more likely to be slaying opponents, hoarding money, or building arsenals than talking about chlamydia, syphilis, and condoms.
But in a board game called Clinic Quest, players work together to compile "research" on sexually transmitted infections and their prevention and treatment, a gaming mission both collaborative and competitive, influenced in part by Sorry and Trivial Pursuit.
Clinic Quest is a product of Game Changer Chicago Design Lab, a program that brings together Chicago middle school and high school students with University of Chicago designers to create board games and digital games focused on reproductive, sexual, social, and emotional health.
It is a project of the Center for Interdisciplinary Inquiry and Innovation in Sexual and Reproductive Health (Ci3) at the University of Chicago,co-founded by Melissa Gilliam, a professor of Obstetrics & Gynecology and Pediatrics, and Patrick Jagoda, a professor of English/ New Media Studies.
In games like Clinic Quest, talking frankly and even flippantly about sexual health issues in the heat of the game ultimately helps reduce stigma, shame, and discomfort around these issues and makes it easier for youth to communicate with their peers or medical professionals and be proactive about their health.
…talking frankly and even flippantly about sexual health issues in the heat of the game ultimately helps reduce stigma, shame, and discomfort…
Another Game Changer creation, Hearsay, explains birth control options by inviting players to create narratives about fictional characters based on cards with prompts like "going to a fraternity party" or "keeping a big secret."
"It's exciting watching kids get comfortable with sticky subject matter," says game designer Bea Malsky. "Games are a great way to enter into difficult conversations about things like sexual health."
Gilliam explains that while games are the medium and reproductive health is often the focus, the larger aims of the project include exposing young people to science and technology, to experts in those fields, and to intergenerational conversations and connections.
"My long-term goal is that we really help them do better in school, that they have real ideas about what they want to do in the future, and they have relationships that help them figure out these things for themselves," Gilliam says. "This is what my work is about."
This multi-layered mission is what attracted Mercedes Anderson, a participant in the Game Changer summer program Hexacago Health Academy.
"I want to meet new people and build communication skills that can help me in real-life struggles," said Anderson, 17, who lives in the South Side neighborhood of Englewood. "And I've played games since I was six, so that was very appealing to me."
Her favorites? Monopoly, Candyland, and Life.
Another Hexacago participant, 13-year-old Qudus Bello from the South Loop, loves technology and favors video games over board games. He expects Game Changer will help him achieve his dreams of being an actor and a bioengineer. "It's fun, it's cool, it's a good place for me," he says.
Trinity Thomas, 15, from Hyde Park, appreciates Game Changer's focus on "health topics that affect teenagers."
"We're expected to take initiative and address this topic in a fun, inventive way," she says.
Game Changer works with students in Chicago Public Schools year-round, and this summer is the second annual Hexacago Health Academy. Gilliam notes that in a typical Game Changer program more than 90 percent of participants are African American or Latino, the vast majority come from the South and West sides of Chicago, and about 60 percent are eligible for free school lunch.
Hexacago is the name for the board used in many of the lab's games, a grid of hexagons overlying real-life landmarks like L train lines, hospitals and libraries. Last summer's academy focused on sexual and reproductive health; this summer, students are designing games focused on drugs and alcohol, among other things.
The lab will design new games and continue working on a game called Bystander, which deals with the role of young people in preventing and addressing sexual assault, including when alcohol is involved. They will also continue developing a board game called Smoke Stacks, in which youth play from the perspective of a tobacco industry executive trying to hook more customers.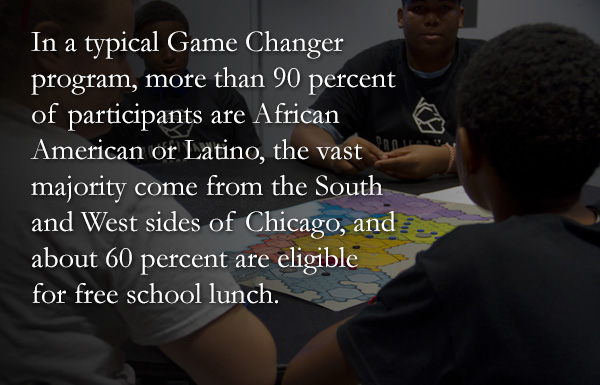 During the summer academy, youth meet with medical, science, and law enforcement professionals to learn about health, safety, and social issues, and they also work closely with University of Chicago students who serve as mentors and sounding boards. It is a much more interactive and empowering approach than typical sex ed or health classes.
"Rather than 'Just say no' or 'Look out or horrible things will happen to you,' we talk to police officers, doctors, have them do research so they can understand the systems and structures," Gilliam says. "We use board games because it's a great way to learn a lot of key 21st century skills – how to collaborate, how to lead a team, how to form a team, how to problem solve, how to think critically. It's a real story of human relationships."
"It's letting them take back control of their education," says Ashlyn Sparrow, director of the Game Changer Design Lab.
Sparrow has a Master's degree in entertainment technology from Carnegie Mellon University and has long been fanatic about all kinds of games. She hopes games become a more common part of education, public debate, and even policy-making. Game Changer helps students not only make games but make their voices heard in these arenas.
"I consider myself a mentor, not a teacher, because the students are the ones coming up with the games," Sparrow says. "Games are not neutral. When we're bringing in health professionals and then having the students internalize that information and create games for their peers or their aldermen, it's about the way they interpret things, it's about them and their communities."
---
Since 2014, MacArthur has provided $1.3 million in support to the Game Changer Chicago Design Lab to develop game-based learning experiences that improve the science, technology and math skills of Chicago youth.