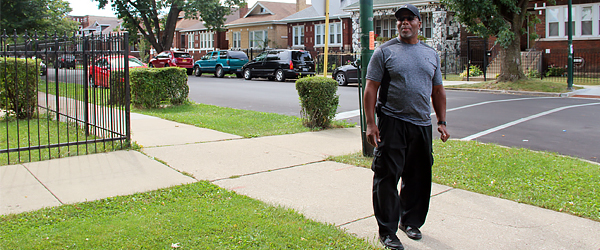 When Rafi Peterson moved to the Southwest Side Chicago Lawn neighborhood in 2007, he remembers that "shots were flying — it was the wild west." Drug dealers operated in the open and most residents avoided going outside after dark, he says. On the Washtenaw Avenue block where Peterson lived in a transitional home for ex-offenders recently out of prison, he counted 22 vacant properties.
Today, it is a vastly different story. Peterson now owns the home where the transitional program was housed and lives there with his family. The Inner-City Muslim Action Network (IMAN) runs another transitional home on the same block. And there is not a single vacant property.
You can't win on housing if you can't win on local schools, if you can't win on jobs, if you can't win on reducing violence.
Peterson credits the transformation largely to the Southwest Organizing Project (SWOP) and its 34 member organizations, including IMAN. In a neighborhood that once had among the city's highest foreclosure and vacancy rates, SWOP and its partners have implemented a holistic suite of programs that address the housing crisis directly along with the related issues of violence, employment, and education.
"You can't win on housing if you can't win on local schools, if you can't win on jobs, if you can't win on reducing violence," says SWOP executive director Jeff Bartow.
Since its founding two decades ago, SWOP has spearheaded anti-violence, youth development, and community-building initiatives including parent-mentor and after-school programs and health clinics in the local schools. In addition, SWOP leads the local branch of the anti-violence organization Ceasefire, with Peterson serving as the coordinator.
A Growing Crisis
---
More than a decade ago, SWOP and its partners and members started hearing from more and more residents who were stuck with subprime and predatory loans. Staff from SWOP and its member organizations went door to door talking with residents, and it became clear that unscrupulous lenders were targeting the area, particularly Latino immigrants and senior citizens.
Betty Gutierrez, a long-time community organizer and SWOP board member, remembers people who received eviction notices moving out in the middle of the night without even taking their belongings, ashamed of their predicament. But SWOP and partners helped bring residents together to address the crisis.
"People do not want other people to lose their homes – that's the family their kids play with, they don't want a vacant building on their street," says Mike Reardon, neighborhood director of the Chicago Lawn office of Neighborhood Housing Services, a SWOP member organization. "If a tornado came through and 100 people lost their homes, we'd be out helping all those families. But if all these families lose their homes because of foreclosure, people might not even know about it."
The groups worked together to help residents connect with counselors, access assistance programs and stabilize their mortgages. They lobbied to pass state legislation in 2007 targeting predatory lending. In all, SWOP and partners helped more than 600 families stay in their homes through counseling and support, the organization says.
Reclaiming Southwest Chicago
---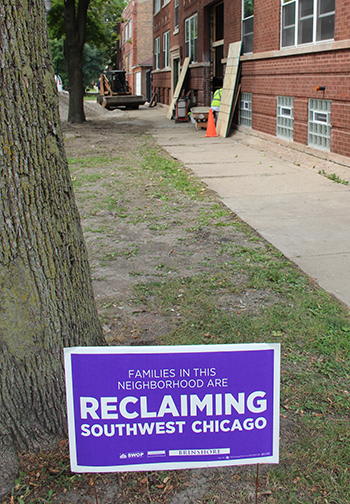 Even as SWOP made inroads against foreclosures caused by predatory lending, in 2008 the economic crisis hit and further ravaged the neighborhood. So along with trying to help residents avoid foreclosure, SWOP and their partners set about trying to heal the wounds of mass vacancies.
In 2012 SWOP and its partners, United Power for Action and Justice, and Brinshore Development, began the Reclaiming Southwest Chicago initiative to revive vacant buildings. The effort was launched with $500,000 in funding over four years from the Local Initiatives Support Corporation's New Communities Program, which was supported by the MacArthur Foundation. SWOP, United Power, and Brinshore then organized to raise $8 million through the Illinois Attorney General's foreclosure settlement funds, the Illinois Housing Development Authority, and the City of Chicago.
SWOP and Brinshore Development are in the process of acquiring and renovating a roster of 50 housing units in a 20-square-block radius, preparing them for either rental or homeownership. Once those 50 are done, they will start on another round of 50.
The investment and renovations by SWOP and Brinshore have also sparked separate efforts by others. When the initiative was launched, there were 93 vacant and abandoned addresses in the target area. Now, there are 21. By the end of 2017, if all goes well, there will be zero, Bartow says.
Crime and violence are down significantly in the past five years, a fact SWOP staff and partners attribute in part to the work they are doing. Two local schools have improved from the district's worst level 3 designation to the top-tier Level 1, and another has gone from level 2 to 1.
"It's become a place where people want to raise their families; they want to move in," Peterson says.
A New Beginning
---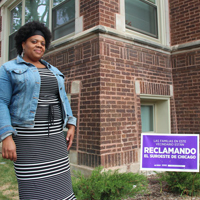 Tenants moved into the first redeveloped property this summer, a 13-unit attractive brick courtyard building on the corner of 62nd Street and Washtenaw, right near Fairfield Elementary Academy and the majestic St. Rita of Cascia Church.
One of the new residents is Jamillah Rashad, who works in the nearby Marquette School of Excellence elementary running SWOP's Elev8 program community school initiative that provides students resources like after-school programs and academic support. Elev8 also serves as a liaison between the school and the on-site health clinic Esperanza.
"It's like a dream come true," says Rashad, 34, picking up toys strewn on the gleaming hardwood floors of the new apartment. She has a three-year-old daughter and a son in sixth grade; she happily enrolled him in Marquette school last year since it has improved to earn the top Level 1 ranking after being a troubled Level 3 school. Rashad and others credit SWOP in part for this transformation.
"With the buildings being done, people see the neighborhood going in the right direction and it trickles down to reduce violence and improve the schools," Rashad says.
David Brint is the CEO and co-founder of Brinshore Development, which redeveloped Chicago public housing projects into mixed-income developments and other large-scale projects. Brint got into the foreclosure-turnaround business initially in Evanston, after applying for a federal "Neighborhood Stabilization Program" grant to acquire and rehab homes in two census tracts there. Based on that successful experience, he wanted to try similar work in Chicago. Chicago Lawn seemed the perfect setting.
...people see the neighborhood going in the right direction and it trickles down to reduce violence and improve the schools.
SWOP and Brinshore secured funding from philanthropic and institutional sources, including the Illinois Housing Development Authority (IDHA), the City of Chicago, and Attorney General Lisa Madigan, who toured the area in late August. Brinshore and SWOP typically own the buildings jointly. They serve as the landlords of rental buildings like the one where Rashad lives, and they will sell the rehabbed single-family homes once they are completed.
"In Chicago Lawn, there is wonderful housing stock, there are still institutions that are very strong, and SWOP is an amazing partner because they are one of the best grassroots development organizations in the city," says Brint. "We have all sorts of partners that have an interest in saving the neighborhood, from hospitals to churches to schools. It's a very holistic approach."
Since 1998, MacArthur has provided $1 million directly to the Southwest Organizing Project, including a MacArthur Award for Creative and Effective Institutions. SWOP received an additional $1.5 million through LISC, a MacArthur-supported intermediary.