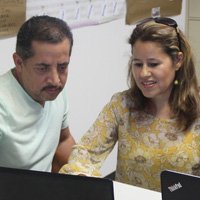 Until recently, Enedelia Navarro and Antonio Rodriguez did not think in English.
Though they had been in the U.S. for about 15 years, the challenges of making a living and raising a family left little time or energy to learn English, and they struggled by with limited vocabulary and broken grammar.
All that changed this year thanks to an innovative program called Cyber ESL at the Instituto del Progreso Latino in Chicago.
"I used to think of everything in Spanish, then try to translate," says Navarro, who is originally from Monterrey in northern Mexico. "Now, I'm thinking and speaking in English, adjectives, nouns, so many new words!"
Cyber ESL combines online and face-to-face English as a Second Language (ESL) instruction in a program that brings together the best of both approaches. Most of the learning is done at the adult students' own pace, wherever and whenever is convenient for them.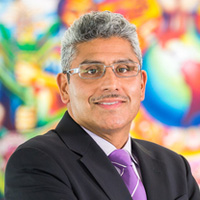 As Instituto Executive Director Juan Salgado explains, self-pacing eliminates some of the serious barriers that result in low retention rates for ESL programs nationwide. Working parents do not have to travel hours on public transportation or spend money on gas and parking to get to classes. And their busy work and child care schedules do not interfere with language learning, since they can schedule their "classes" whenever works.
"What is not working is that by and large adult education programs bleed a lot of students," said Salgado, a 2015 MacArthur Fellow. "Lots of life things are getting in the way, and we as institutions have not come up with the proper remedy for that. So we started thinking about how you change and make it more flexible to students."
Since the Cyber ESL program started in 2014, retention rates have been high.
Instituto's Cyber ESL course includes the USA Learns program, an online curriculum backed by the federal government, plus one-on-one time with a teacher via telephone, Skype, or other media. Students also come together in person every other Saturday, fostering a group dynamic and real-life interaction without an overly burdensome time commitment.
At the Instituto offices, Navarro shows off the poster she made during one of the Saturday sessions, a celebration of Harriet Tubman with Navarro's neat handwriting describing – in English – Tubman's achievements.
Three-quarters of the Cyber ESL participants are women and more than half have low incomes, below $20,000 a year. The majority has children age 11 or younger; many are single mothers. Cyber ESL students can do their lessons after children go to bed, or with their kids. Navarro notes that now when their two boys, ages 8 and 11, come home from school and start their homework, she does homework on the computer right alongside them.
Before the program, she was timid and unsure when speaking broken English. Now she speaks boldly, with easy laughter and a warm smile.
And the Cyber ESL lessons are about much more than language. They center on themes like education, the workplace, and housing. Students learn how to help their kids with the Chicago school system; how to file taxes and deal with authorities; how to negotiate with a boss and handle drama on the job; and how to recognize and fight discrimination from landlords. There is even a section on the challenges of raising teenagers.
"You learn how things work here, things you can't do here like you would in other countries," says Rodriguez, originally from the southern city of Guadalajara, Mexico. "Like when the police stop you, you cooperate with them, you do not fight with them."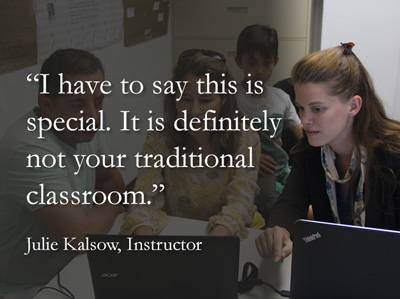 The English skills Rodriguez and Navarro have gained thanks to the program have helped them communicate with their sons' teachers and allowed them to help more with the boys' homework, they said.
The Cyber ESL program is free and Instituto supplies students with notebook computers used for the lessons. "And the charger!" adds the couple's eight-year-old son.
Their teacher, Julie Kalsow, has been teaching ESL classes for more than a decade. She has seen students progress much more quickly in Cyber ESL than in typical language classes.
"I have to say this is special," she says. "It is definitely not your traditional classroom."
The Cyber ESL class incorporates Instituto's acclaimed "contextualized curriculum" and workforce development approach, which has helped adult learners advance an average of three grade levels in one year.
"With Cyber, we are seeing if we can get the same accelerated learning rates that we got with contextualized curriculum, with a platform that is still personalized, but you don't actually have to come here," Salgado says. "The answer is, yes we can."
So far, Instituto's Cyber ESL has been a pilot program used to fine-tune the strategy and evaluate the results. Now they hope to scale up the project, to serve more students, and to offer Cyber ESL at higher levels of language proficiency. They also intend the project to serve as a model and inspiration for other ESL programs statewide or nationwide and are eager to share their expertise and findings.
"Now that we know it works, we are ready to take the next step," says Salgado.
Cyber ESL could help meet the great demand for ESL training in Illinois, a demand that could grow even more if Congress passes immigration reform that makes English proficiency a requirement for normalizing immigration status.
The flexible structure of Cyber ESL could make the classes accessible to immigrants who otherwise would not be able to work classes into their lives.
Classes offered by the Illinois Community College Board – one of the state's major providers – meet only 16 percent of the need for classes, according to a 2010 study by the Illinois Coalition for Immigrant and Refugee Rights. The study cites one of the reasons for low enrollment being the difficulty of getting to centralized community college locations– a problem that Cyber ESL alleviates.
The flexible structure of Cyber ESL could make the classes accessible to immigrants who otherwise would not be able to work classes into their lives, and the innovative nature of the program could also make it viable for schools or organizations with budget or space constraints that limit their traditional class offerings. But funding and policy changes would be crucial to spreading the model more widely, Salgado notes, since public funding for community colleges and other programs is currently based on students' "seat time" in a classroom.
Studies have shown significant increases in average wages when people master English. Meanwhile Navarro and Rodriguez hope their newly acquired English skills will help them realize their dreams of opening small businesses – a beauty salon for Navarro and either a mechanic shop or a Mexican restaurant for Rodriguez. Navarro is also determined to earn her GED degree. The test can be taken in Spanish, but she is determined to take it in English.
"We have worked so hard to find jobs, buy a house, raise a family," Navarro says, noting she and Rodriguez are in their 40s. "Now it's time for us to do something for us."
---
Since 2014, MacArthur has provided $900,000 to support and evaluate the Cyber ESL Program. Those interested in attending Cyber ESL programs can contact Dr. Ricardo Estrada at the Instituto del Progreso Latino, (773) 890-0055 ext. 4502.