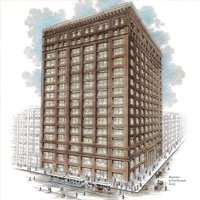 MacArthur's offices are located in the historic and beautiful Marquette Building, a Chicago landmark and one of the city's first skyscrapers. The building is a classic example of Chicago-style architecture. Designed and built by Holabird & Roche in 1895, it was named for the French Jesuit missionary and explorer Jacques Marquette.
In 1975, Banker's Life and Casualty Company, owned by John D. MacArthur, acquired the Marquette Building, and in 1976 it was named a National Historic Landmark. After his death in 1978, the building became the headquarters for the Foundation which bears his name. In 2001, MacArthur undertook an extensive restoration of the building, working closely with preservation specialists to return the interior and exterior to its original splendor.
There is a free exhibit in the building's arcade, just west of the lobby, at 140 South Dearborn Street. Interactive kiosks detail the building's design, history, and renovation. The exhibit is free and open to the public from 7:00 a.m. to 10:00 p.m. daily. The Chicago Architecture Foundation provides scheduled tours of the building.