Content Creation Tools and Platforms
It is not enough to understand accessibility principles. You must be able to apply these principles using the tools like word processors and text editors that you rely on to add content to your website. Almost all common content creation tools allow you to do things like add alternative text to images or create a heading structure, but the way this is implemented is different in almost every tool. This page outlines some of the most common tools and provides links to more detailed articles on how to leverage their accessibility features.
Featured Resource
---
NCDAE accessibility "cheatsheets"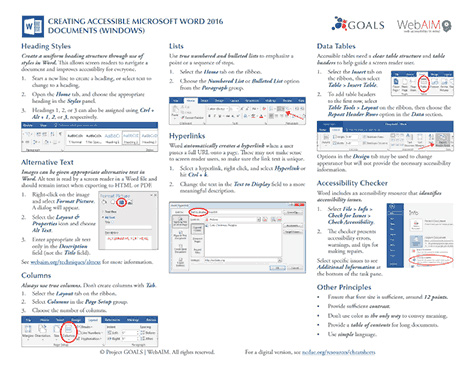 The National Center on Disability and Access to Education (NCDAE) has created a series of printable one-page "cheatsheets" to assist anyone who is creating accessible content in common tools like Word, PowerPoint, Acrobat, and others.
Office Programs
Featured Resource
---
SBCTC's Library of Accessibility Resources
Washington State Board for Community and Technical Colleges (SBCTC) has created a wealth of detailed resources on general accessibility concepts as well as guidance for specific tools like Word, PowerPoint, Acrobat, and Canvas.
WYSIWYG Editors
A WYSIWYG (What You See Is What You Get) editor is a program that allows you to write or edit content so that the way it looks in the editor will be reflected in the final web page. Also called "rich text" or "content" editors, they are often used with a content management system (CMS) like WordPress or Drupal. The CMS controls the way a website looks and behaves, and the editor is used to create or update the content within a webpage.

Desktop Publishers
Desktop publishing programs are used to control the design and layout of a document, usually for print. They often have additional accessibility issues. Because they focus on appearance, there is often a disconnect between the way a document looks and the way it is structured or sequenced. While it is usually possible to address these issues, it is not usually as straightforward as it is in a word processor or WYSISYG editor.
Quick Tip
It is often easier to create a main version of these types of files directly in your website with a link to a printable PDF option. If the main version presents all the same information, including meaningful images, the printable version does not have the same accessibility requirements.
Social Media
For many organizations, social media, like Facebook or Instagram, is an important way to deliver information. While many social media platforms have accessibility issues, almost all of them are making improvements. For example, almost all social media platforms allow you to add alternative text to images.
Quick Tip
Social media often relies heavily on images and videos to convey information, so you will need to pay close attention to alternative text and captions.
---
---