Two decades ago, economics was the conservation community's big blind spot. It was considered the problem, not a part of the solution. Today, economics is accepted by a broad spectrum of conservationists from across the world as an important tool in their fight to protect the environment. A share of credit for the shift goes to Conservation Strategy Fund (CSF), which, since 1998, has taught people to use economics to protect forests, rivers and other ecosystems. CSF's vision is for conservationists to use economics and business sense as shrewdly to sustain nature as developers do to exploit it.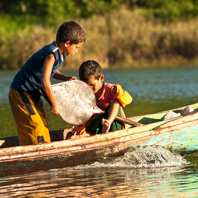 CSF operates with a small core staff based in North, South and Central America, a roster of top university instructors and a network of around 1500 graduates from more than 80 countries who share information and expertise. CSF's instructors provide intensive courses and hands-on field training to people in the non-profit sector and government. These trainings help local conservationists create and strengthen parks, influence policies, craft sustainable development paths and avert damage from major road and dam projects. This training and research effort combined with the hard work of innumerable local allies has helped to conserve around 20 million acres (8 million hectares) on less than $1 per acre. A few highlights include switching to a lower-impact expansion plan for the Panama Canal; thwarting roads that would have cut through Madidi National Park in Bolivia and the Maya Forest of Guatemala and Mexico; and developing innovative pricing strategies to reduce crowding in Tanzania's national parks.
CSF has analyzed the economic benefits and revenue potential of national parks in Brazil, Bolivia, Peru, Panama, Belize, Mexico and the Bahamas, and now is increasingly supporting indigenous and local Amazon communities — who control vast tracts of forest — in developing sustainable business plans.
The MacArthur Award for Creative and Effective Institutions arrives at a pivotal time in CSF's growth. The broad applicability of CSF's training and analysis has sparked increasing demand from a wide array of groups — from indigenous communities and small, activist NGOs to mainstream national and international NGOs and government agencies. In 2011 the organization received 10 applicants for every open seat in its core Economic Tools courses.
The $750,000 award will establish an operating reserve, which will enable CSF to reinforce its organizational base and plan how to scale up and serve more people. CSF plans to move more quickly into geographic regions such as Asia and Africa, and also expand its work to include marine conservation and climate change.
More Information