Historically, Chicago has worked to mitigate the impact of vacant, mismanaged and deteriorating multifamily properties in the city's neighborhoods through aggressive code enforcement and court action against weak property owners. However, code enforcement on seriously code-deficient multifamily buildings often leads to abandonment and subsequent demolition, which results in increased blight and loss of affordable rental units. To address these unintended consequences, the City of Chicago works with Community Investment Corporation (CIC) to change the trajectory of troubled buildings from abandonment and demolition to viable rental properties that can help stabilize communities.
As a community development financial institution, CIC works in market niches that are underserved by traditional financial institutions. With a loan portfolio of $300 million and support from 35 commercial bank investors, CIC is one of the City's largest and most active community development financial institutions. CIC plays an important role in the City's efforts to address community development and affordable housing challenges in low and moderate-income neighborhoods. Its staff works to provide critical capital to affordable housing developers, who acquire and renovate existing rental properties that comprise the majority of the City's affordable rental housing units. CIC leverages the private sector and provides attractive loan products and intensive property management education to the small business people who operate rental housing in low-income communities.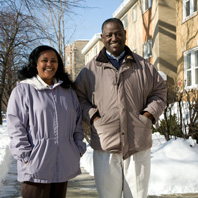 To date, CIC's staff has originated over 1,800 loans totaling more than $1.1 billion to rehabilitate more than 46,000 affordable homes for 115,000 Chicago area residents. CIC also manages the Troubled Buildings Initiative on behalf of the City of Chicago, making emergency repairs to and sometimes taking ownership of multifamily buildings at risk of foreclosure and demolition.
The Troubled Buildings Initiative is crucial to reducing the number of abandoned buildings and strengthening the stability of community blocks and neighborhoods in Chicago. This Initiative combines strict code enforcement by city departments with the legal means to transfer control from a disengaged property owner to CIC. This allows CIC to make emergency repairs to the property or take ownership in some cases. Since the program was initiated, CIC has recovered 260 buildings with 5,265 units.
Because of the dramatic setbacks experienced by the housing market in many low-income communities, a building-by-building approach is no longer sufficient to address the preservation of rental housing. To avoid the loss of vast numbers of housing units in low-income neighborhoods most affected by foreclosure, a comprehensive approach of community redevelopment is needed.
CIC will use the $2 million MacArthur Award to sustain and grow the Troubled Buildings Initiative and support the organization's larger efforts to address the impact of vacant and troubled buildings upon the stability of Chicago's low- and moderate-income communities. By creating a base of capital, which can be used to support a loan loss or operating reserve, CIC will be able to attract additional capital resources and develop new products to address the glut of foreclosed and vacant multifamily properties that depress property values and contribute to community blight.
More Information