The financial troubles of this decade have shown that many lending practices are stacked against ordinary Americans, particularly low-income families struggling to gain a foothold in the middle class. Bad lending practices regularly drain wealth from families, devastate communities, and weaken our nation's economy.
The Center for Responsible Lending (CRL) works to change this system. Its vision is to transform today's broken lending system into a fair, transparent market that promotes and protects homeownership and family wealth. CRL is a nonpartisan research and policy organization, and an affiliate of Self-Help, one of the nation's largest nonprofit community development lenders. For more than 30 years, Self-Help has worked to create home ownership and economic opportunity in underserved communities through responsible loans and financial services. CRL conducts its work through offices in Durham, NC, Washington, DC, and Oakland, CA.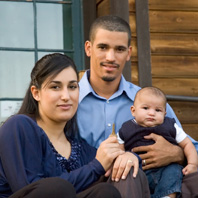 Founded in 2002, CRL plays a critical role in influencing policymakers to enact reforms in payday lending, consumer mortgages, overdraft fees, credit cards and other areas. Consumers, the media, and community advocates also regularly turn to CRL for information and recommendations to avoid or stop financial abuses.
In December 2006, CRL published one of the first reports documenting the rapid deterioration of subprime mortgages and projected millions of foreclosures nationwide. State and federal officials rely on CRL's research on the scope, causes, and cures for the foreclosure crisis, and its reports on overdraft and credit card fees have led to major new legislation. For example, CRL's work contributed to the 2010 passage of the Dodd–Frank Wall Street Reform and Consumer Protection Act and the creation of the Consumer Financial Protection Bureau.
Yet, despite the positive moves towards Wall Street reform and consumer protection in financial services, work to ensure effective, common-sense oversight of the financial industry has barely begun and fierce opposition remains.
The MacArthur Award for Creative and Effective Institutions arrives just as the new Consumer Finance Protection Bureau begins to set standards for consumer financial services that will span the next decade and beyond. Policymakers charged with carrying out this important task will continue to seek CRL's technical expertise and regulatory recommendations.
CRL will use the $2 million MacArthur Award to build a permanent endowment and create a strategic plan to continue to successfully advocate for safe and sustainable financial products. The plan will include a roadmap for building a broader coalition of partners and expanding CRL's focus into other consumer finance areas such as student loans and reverse mortgages. CRL also will use the award to improve its fundraising efforts and maintain its strong voice in important policy debates on the best ways to protect the financial security of American families.
More Information