A growing number of policy analysts within Russia consider the country's present political and economic system as increasingly unsustainable. This viewpoint—coupled with the anticipated return of Vladimir Putin to the presidency and his history of human rights repression and abuse— makes Carnegie's analysis in Moscow highly valuable.
The Carnegie Moscow Center is the Moscow-based arm of the Carnegie Endowment for International Peace and has been recognized as the best independent think tank in the country, the post-Soviet space, and Eastern and Central Europe. The Center's ability to maintain its effectiveness in a complicated political environment is derived from its dual character as a global and local institution. As part of a global think tank, it maintains independence from Moscow's political factions and patronage networks. At the same time, the Center is an authentically Russian institution, albeit one that is internationally engaged.
Carnegie Moscow Center's staff includes in-house experts on Russian domestic and foreign policy—each recognized by their peers as the best in the country in their fields. These scholars influence the public policy debate in and on Russia through articles, op-eds, interviews, and TV and radio appearances, which are published and broadcast daily in Russian and international news media. These scholars are also sought after for their membership in prestigious professional associations, are featured speakers at conferences, and are invited to give briefings to Russian and international dignitaries, industry leaders, and diplomats. The Carnegie Moscow Center publishes up to 30 titles per year in addition to a quarterly series of working papers and regular briefings.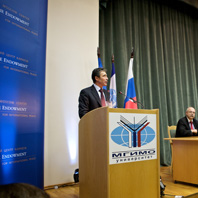 The Center provides a distinctive platform for the open debate of key issues inside Russia. Its experts analyze Russia's international and domestic politics to add a respected voice to policy debates within Russia and bring Russian perspectives to bear on U.S.-Russian relations and global issues.
Carnegie Moscow Center experts also have the capacity to bring their analyses of Russian policies and politics into international dialogues and help build bridges with Russia's neighbors, the European Union, and the U.S. They engage thought leaders and policymakers through roundtables, presentations, and seminars and conferences related to Carnegie's eight program areas, which include: Foreign and Security Policy, Political Institutions, Society and the Regions, Religion, Society and Security, Nonproliferation, Economic Policy, and Energy Efficiency and Climate Change; and the East East: Partnership Beyond Borders.
The Carnegie Endowment for International Peace will use the $2.5 million MacArthur Award for Creative and Effective Institutions to establish a new endowment fund for the Carnegie Moscow Center. This award will support and strengthen the Center's programmatic activities, including its policy analysis, writing, and outreach, and seed funding to attract additional donors, so it can remain a vital, independent and influential institution on Russian politics and policy through this decade and beyond.
More Information