MacArthur Award for Creative & Effective Institutions / Meet the 2010 Recipients
Royal Society for Protection of Nature
Thimphu, Bhutan
Published January 19, 2010

Protecting Bhutan's rich biodiversity
The Royal Society for Protection of Nature is Bhutan's only national non-profit focused primarily on the conservation of the country's famed environment and biodiversity. The Society does so through conservation, education, outreach, and sustainable development.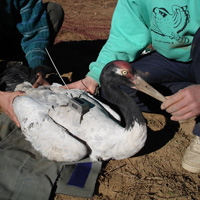 The Royal Society protects the Phobjikha Valley, immense wetlands that are home to endangered species including hundreds of globally threatened black-necked cranes. These wetlands also serve as a crucial biological corridor connecting the Jigme Singye Wangchuk National Park with two other national parks. The sensitive and ecologically important region falls outside Bhutan's national protected areas, so conservation driven by private organizations and involving the public is paramount. The Society educates and encourages Bhutanese residents to take leadership roles in protecting their environment, partnering with government and civil society in projects, and making small grants. The Society also promotes sustainable ecotourism, alternative energy, and gender equity, helping people live in harmony with the environment. Their efforts have outfitted more than 200 homes, monasteries, and other buildings with solar photovoltaic panels, and provided women with solar water heaters, one-pot hole mud stoves, rain barrels, and other technologies that make their lives easier while also offering environmental benefits. The society's work becomes ever more important in light of political changes and the country's expanding economy.
The Royal Society for Protection of Nature will use its $350,000 award to contribute to its endowment, create an operating reserve, and construct a public library and conference center.