About Chicago Sinfonietta
Chicago Sinfonietta is a professional orchestra dedicated to modeling and promoting diversity, inclusion, and racial and cultural equity in the arts. It presents symphonic performances, provides mentoring programs for young musicians and conductors of color, and facilitates music education through its programs with Chicago Public Schools.
As the nation's most diverse symphony orchestra attracting a similarly diverse audience, Chicago Sinfonietta is redefining what classical music looks like through its innovative programming and commitment to diversity. According to recent statistics compiled by the League of American Orchestras, less than five percent of orchestral musicians in America are people of color; at the Chicago Sinfonietta, it is 35 percent. National classical music audiences are overwhelmingly white, yet people of color make up 46 percent of the Chicago Sinfonietta's audience.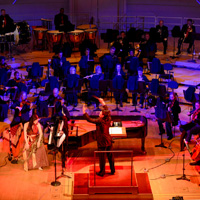 Chicago Sinfonietta is often invited to share its models for innovative concert programming and inclusivity in national publications and at national and regional gatherings. By sharing its experiences and demonstrating the value of embracing diversity and inclusion, the Sinfonietta is helping other orchestras and audiences have important, crucial conversations about equity in the arts.
Under Founder Maestro Paul Freeman, the Sinfonietta started the Project Inclusion, a professional development program that develops early career, diverse musicians, conductors, and arts administrators. A number of its fellows have gone on to prestigious careers around the country, both on stage and on the podium. Chicago Sinfonietta also conducts music education in 23 Chicago public schools and six Aurora schools, serving more than 1,500 students a year, the majority of whom are low-income students of color.
The Chicago Sinfonietta will use its $625,000 MacArthur Award to establish an operating reserve and to underwrite critical technology upgrades.
Chicago Sinfonietta grantee profile ›
More Information