In early 2008, villages and cities across Kenya were ravaged with violence following a disputed election. The election controversy became the pretext for ethnic clashes that displaced hundreds of thousands of people and claimed the lives of more than 1,200, some in grisly fashion.
An ad-hoc group of tech bloggers based in Kenya decided to act. They built a software platform, called "Ushahidi" to shine a light on human rights violations and, bring much-needed attention and support to developing emergencies. Ushahidi means "bearing witness" in Swahili.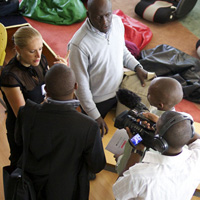 The software enabled Kenyans to document and report on incidents in real-time, giving the media, governments, and relief organizations an immediate picture of what was happening on the ground. By aggregating texts, tweets, photos, and descriptions from phones and computers, Ushahidi created crowd sourced maps that made incidents of violence, election fraud, and abuse plainly visible on a broad scale.
Since that catalytic moment in 2008, Ushahidi has grown into a mapping platform used in crises around the world, supporting 35,000 maps in 30 different languages. Following the earthquake in Haiti in 2010 and the tsumani in Japan in 2011, the Ushahidi platform was used to organize emergency responses in real-time. Less than an hour after the 2011 terrorist attacks in Mumbai, the Ushahidi platform was used to spotlight areas of refuge. Most recently, Ushahidi has enabled crowd mapping of violence in Syria's civil war.
Today, Ushahidi's vision comes full circle as it prepares for Kenya's first election since the outbreak of violence and its new constitution. With Ushahidi's help, election watchers, human rights activists, international media, and foreign governments will have an enhanced view of developments on the ground. And, more importantly, Kenyan citizens will have a place where their collective voices can be heard as they push for a safer, more transparent democracy.
Ushahidi will use its $750,000 MacArthur Award for Creative and Effective Institutions to build a reserve and to develop technological security measures to protect platform users.
Grantee Profile: Learn more about Ushahidi