Threats to international security – from nuclear weapons to climate change – must be addressed with deep analysis, smart policies, and effective coordination. Despite the urgency of these threats, the political will and action needed to address these issues is often lacking.
The Stimson Center drives pragmatic solutions to build international peace and security through a unique combination of analysis and outreach. By engaging policymakers, policy implementers, and civil society groups, the Stimson Center creates and advocates solutions that are cross-partisan, actionable, and effective.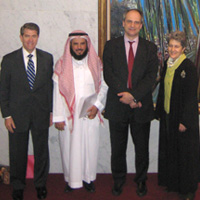 To address the challenge of climate change, Stimson links the environment and security in new ways that are both conceptual and practical. In the Mekong River Basin, Stimson helps environmental groups bring their concerns to national and regional policymakers and helps sensitize those leaders to see the stewardship of transboundary water systems as part of their national security. In South Asia and the Middle East, Stimson promotes greater attention to environmental risks where the security agenda is already fraught. It helps scientists and scholars develop more effective ways to engage in national debates and shape policy choices that can prevent conflict, as well as address the natural resource sustainability challenge.
To enhance nuclear security, Stimson focuses on preventing non-state actors from acquiring nuclear materials. The organization facilitates interaction and learning on the dangers of nuclear war among a younger generation of Indian and Pakistani scholars and practitioners. Stimson also helps developing countries comply with their UN obligations regarding weapons of mass destruction. In a particularly innovative project, Stimson is bringing together representatives from across supply chain sectors to promote industry solutions to the threat of nuclear proliferation.
The Stimson Center will use its $1 million MacArthur Award for Creative and Effective Institutions to help build a reserve fund and provide seed funding to start new areas of work.