Indigenous people across the globe face unprecedented assaults on their land, culture, and livelihoods. Hostile governments, illegal miners, and aggressive ranchers and developers threaten to destroy the land that makes life possible, tear apart social cohesion, and introduce foreign diseases, making the survival of traditional cultures a near impossible struggle.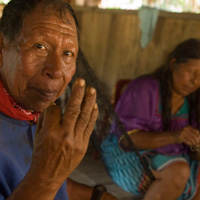 Twenty years ago, in the Amazon basin on the border of Ecuador and Colombia, the Cofán people faced an uncertain future. Many experts thought they were doomed to disappear completely. Now, mostly due to the work of one organization, they are thriving with established land rights, trained rangers that keep out illegal miners, and strong cultural education systems that preserve their heritage.
Fundación para la Sobrevivencia del Pueblo Cofán (Foundation for the Survival of the Cofán People) is an indigenous support organization that focuses on practical, on-the-ground actions to safeguard ancestral lands from illegal or poorly regulated logging, mining, agriculture, and oil extraction. The organization has protected more than one million acres of rainforest, wetlands, and rivers through an innovative strategy that combines formal alliances among the Ecuadorian government, Cofán leadership, and prominent global institutions, as well as an extensive field presence of Cofán rangers and a network of community-based conservation projects. As a result, the Cofán people now manage a one-million acre swath of rainforest, in which there is almost no deforestation.
Today, the Cofán are the only indigenous people in Ecuador with government-assigned responsibility for managing parts of the protected areas system. With an eye to the future, the Foundation created a unique education program for Cofán youth that integrates cultural preservation, knowledge about the dominant Ecuadorian society, and trilingual language instruction (Cofan, Spanish, and English). Their approach to land protection, alliance building, and education makes the Cofán a model for other indigenous groups searching for a proven way to protect their territories and preserve their traditional cultures, while collaborating with national governments.
Fundación para la Sobrevivencia del Pueblo Cofán will use its $500,000 MacArthur Award for Creative and Effective Institutions to build an endowment, upgrade its field facilities, and plan a development strategy.