A 15-year-old is sentenced to life in prison without parole despite her young age and extenuating circumstances. A youth with a mental health condition receives a felony "destruction of government property" charge for damaging a ceiling tile at his foster care facility. A young, single mother is arrested for violating her parole when she takes her infant to daycare. These are the kinds of legal injustices that the Children and Family Justice Center at Northwestern University's School of Law fights in its quest for fairness and dignity for all children in the justice system.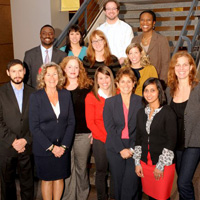 For 20 years, the Center has fought for and stood with children in conflict with the law. With a dual focus on zealous individual advocacy and systemic policy reform, the Center seeks to protect the rights of children and to change the ways in which the systems controlling their lives too often ultimately fail them. It is also committed to teaching and mentoring the next generation of lawyers and policy advocates.
The Center's attorneys, social workers, community outreach specialists, and law students advocate on the front lines of the Illinois juvenile justice system, particularly where access to lawyers and justice is compromised. In these cases, the Center focuses on issues such as extreme sentencing of youth, fitness to stand trial, and the urgent need to assist incarcerated young people transition back into the community.
At the same time, the Center monitors its caseload for opportunities to help improve the law. It collects data and documents its clients' experiences to buttress and humanize its policy initiatives. In recent years, the Center's casework-informed policy initiatives have included efforts to end the juvenile death penalty, increase the age of juvenile court jurisdiction, and address the harsh collateral consequences that face youth involved in the system. The Center helped create a statewide juvenile defender resource center and network to provide juvenile defense attorneys with opportunities for leadership, education, training, and mentoring.
The Children and Family Justice Center will use its $750,000 MacArthur Award for Creative and Effective Institutions to establish an endowment and implement a strategic communications and development plan.