The Bay Area Video Coalition (BAVC) works at the intersection of film, digital media and technology to help artists and film producers create civic-minded media projects that reach broad audiences to educate and inspire action.
In The Waiting Room, a project supported by and developed at BAVC, residents of Oakland, California describe their health care challenges while waiting to be treated in the emergency room of Highland Hospital. This documentary film explores how inner-city public hospitals are overwhelmed and overcrowded by primary care and trauma patients, many without health insurance. This is one of the many honest and evocative works assisted by BAVC, which has long supported a diverse range of public interest and social issue documentaries and non-fiction storytelling.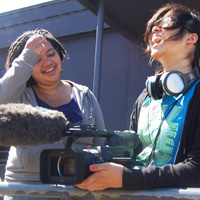 BAVC is now transitioning from a training-based organization to a national driver of media innovation and experimentation, expanding on its long-standing aim of helping independent media artists utilize new technology platforms. BAVC's Producers Institute for New Media Technologies trains experienced filmmakers to use cross-platform approaches – including mobile applications, video games, interactive web-based projects and multi-user communities – to increase the reach of their documentary work. Its projects also include the Impact Dashboard, an online tool that uses social media to help track and measure response to their film, audio documentary, or online programs.

The Bay Area Video Coalition will use its $1 million award to create an endowment and innovation fund and support its move to more spacious and affordable headquarters suitable for public events.
More Information