Human connection and interaction is often lost in today's environment of tweets, Facebook posts and 24/7 media coverage. The Moth seeks to break through the cluttered media environment with live and on air storytelling performances and workshops. These live performances are regularly sold out in cities across the country, and its radio show and podcasts enjoy hundreds of thousands of listeners.
Poet and novelist George Dawes Green founded The Moth in 1997 based on the image of his native Georgia, where he spent evenings sharing personal stories with neighbors on the steps of his friend's porch while moths flitted around the lights. Moth stories cross socio-economic barriers, expose vulnerabilities, and quietly suggest ways to overcome differences. Since each story is true and every voice is authentic, the act of storytelling fosters an intimate relationship between the audience and the storyteller.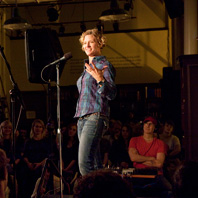 Examples include:
Ishmael Beah, author and former child soldier, describes his transformation from innocent child to coldhearted soldier in Sierra Leone;
Simon Doonan, author, columnist, and Creative Ambassador of Barneys New York, encounters a variety of challenges when Michele Obama calls on him to decorate the White House for Christmas;
Aimee Mullins, a double amputee called "the fastest woman in the world," describes her relationship with her artificial legs in a joyous, humorous way;
Ed Gavagan, stabbed by strangers in a random gang initiation and left for dead in the streets of New York, loses his job, his girlfriend, and his health, but puts his life back together through the kindness of many strangers.
Over the last 15 years, The Moth's reach has extended to regular live events in seven cities, a weekly podcast downloaded 15 million times annually, a growing educational program training high school students in the art of storytelling, and The Moth Radio Hour—begun in 2009—which is currently broadcast on 250 public radio stations with an estimated audience of 750,000 in addition to podcasts and YouTube. A groundbreaking partnership with producer Jay Allison and Public Radio Exchange (PRX), which distributes The Moth Radio Hour, has helped make it a success. It received a 2011 Peabody Award for Excellence in Electronic Media, and in early 2012 The Moth received a book deal with Hyperion Press.
Each year, about 200 live shows take place across the country to standing room only audiences, with the best stories subsequently featured on The Moth Radio Hour, which is produced 10 times annually.
The MacArthur Award for Creative and Effective Institutions arrives at a critical time as The Moth is being challenged to expand its live and digital platforms to an increasing number of cities, to diversify its audiences and storytellers, and to deepen its community engagement.
The Moth will use the $750,000 award to expand its radio program into a regular, weekly Radio Hour, create a radio archive to distribute past content, and create a cash reserve to support better planning and organizational stability.
Grantee Profile: Learn more about The Moth
More Information