Russia has become increasingly open to international cooperation on human rights, but attacks on human rights defenders continue largely unabated. As Russia's oldest human rights advocacy organization, the Moscow Helsinki Group (MHG) plays a leading role in advancing human rights in Russia. Its deeply experienced staff publicizes human rights violations through reports and provides training for human rights activists and government officials.
MHG's long history of advocacy is marked by courage and success. In 1976, a group of dissidents founded MHG in order to publicize the human rights violations taking place within the Soviet Union. They reached out to countries whose leaders had signed the Final Act of the Helsinki Conference and, in June 1976, they persuaded U.S. Congresswoman Millicent Fenwick to establish the U.S. Helsinki Commission—the start of an international network that would eventually monitor human rights throughout the Communist Bloc.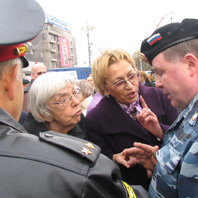 MHG's success in building a network of advocates came at a price. Between 1976 and 1982, all of its founding members were either arrested or exiled, and MHG was shut down. Despite these repercussions, the work done by the Helsinki Group helped create the conditions necessary for Gorbachev's perestroika after 1985. Upon its reopening in 1989, MHG again became the leading monitor of human rights violations in the former Soviet Union.
Today, MHG regularly publishes reports and bulletins about the state of human rights in Russia, which journalists, politicians, and researchers value as important, independent resources to inform their work. The United Nations, Council of Europe, and the Organization for Security and Co-operation in Europe are recipients of MHG's publications, and use them to help develop their own reports and programs. MHG's leadership in the field is also recognized at national conferences, where it continues to educate regional and federal authorities and train activists in human rights education through its human rights schools.
MHG has been a leader in investigating cases of gross human rights violations for more than 10 years. It was the first investigator of the death of Sergei Magnitsky—a 37-year-old lawyer and whistleblower who spoke out against corruption in Russia and died in detention after being refused medical treatment. MHG also stands up for human rights in the courtroom, where its legal experts work to protect Russian citizens, and in the public arena, where its "Strategy 31" campaign gathers in protest on the 31st day of every month to raise to raise awareness and defend the constitutional right to hold peaceful demonstrations.
The 2011 MacArthur Award for Creative and Effective Institutions will provide MHG $750,000 to maintain and expand the role it plays in furthering access to justice and media freedom and other human rights issues in Russia. More specifically, the award will help MHG continue to act as a lynchpin for communications and discussion among human rights groups and as a producer of internationally respected human rights monitoring reports.
More Information