Without an enabling and supportive legal environment, civil society organizations cannot be effective partners in development—partnerships that are essential for sustaining open and lasting change. The International Center for Not-for-Profit Law (ICNL) works with civil society leaders, government officials, lawyers, academics, and other stakeholders in countries across the globe to encourage and strengthen civil society law reform.
ICNL is the only global non-governmental organization focused exclusively on helping to monitor and improve the legal environment for freedom of association and assembly around the world. Through its independent and analytically rigorous reporting on the regulatory environment for civil society and citizen participation in countries around the world, ICNL has built the world's largest database of civil society legal materials—more than 2,000 documents from more than 150 countries in 35 languages. This material is used by representatives of civil society, governments, and the international community, which are interested in promoting an enabling environment for civil society.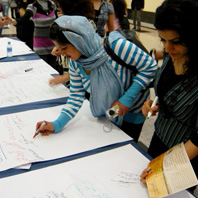 At the individual country level, ICNL identifies threats or opportunities to advance freedom of association and assembly and provides technical assistance to local organizations, parliamentarians, and governments seeking to draft and implement laws that allow civil society to operate freely. In 2009-10, ICNL helped organize a coalition of more than 7,000 organizations in Iraq to replace a bill that would have given the government complete discretion to dissolve associations with a law that instead supports the freedom of association and assembly.
Internationally, ICNL works to mobilize governments and international initiatives to advance the freedoms of association and assembly. For example, its work led to the creation of a 13 nation fund to support embattled civil society organizations. The fund supports initiatives to protect the freedom of association and provides emergency assistance to civil society organizations threatened because of their activities. In addition, ICNL generated the idea and helped establish the first-ever UN Special Rapporteur on the freedoms of assembly and association—a resolution that was adopted by consensus by the UN Human Rights Council in September 2010. The UN Special Rapporteur is now working to defend the freedoms of association and assembly around the world.
The MacArthur Award for Creative and Effective Institutions arrives at a time of key organizational growth. While ICNL has traditionally focused on providing targeted information to a targeted group of peers, a growing demand from civil society organizations and governments for ICNL's information has revealed the need for ICNL to think more strategically about its communications strategy and to broaden its reach through social media platforms. In particular, the recent developments in the Middle East and North Africa have highlighted the need for ICNL to more nimbly respond to emerging issues and opportunities—while sustaining its existing activities.
ICNL will use the $1 million MacArthur Award to establish a working capital reserve that will allow it to sustain its current activities and respond strategically to partners in regions where increased civil society support is needed. It will also use the funds to develop its first comprehensive communications strategy.
More Information