Established in 2005, Crisis Action is an international NGO that brings together hundreds of leading human rights, humanitarian and policy groups to take part in coordinated campaigns to tackle some of the world's worst conflicts.
As an organization that works entirely behind the scenes, you will seldom hear about or from Crisis Action. Yet Crisis Action has fast become an important mechanism by which to mobilize global civil society to prevent or stop mass atrocities against civilians. From Sudan to the Arab Spring, Crisis Action has been designing and coordinating inventive campaigns that have compelled people in power to act quickly in response to armed conflict. In 2011 alone, Crisis Action helped its partners influence governments' policies on Sudan, Congo, Gaza, Afghanistan, Ivory Coast, Egypt, Libya and Syria.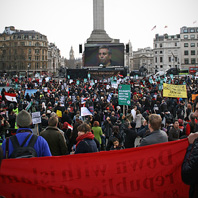 Ending armed conflict is among the most pressing and the most difficult challenges for concerned citizens and policymakers. Crisis Action's philosophy is that civil society is much more effective when working together around common advocacy agendas. With offices in place to target the African Union, European Union, Arab League, United Nations and European governments, Crisis Action's staff works discretely to harness the diverse expertise and knowledge of its partners and affiliates across four continents.
It uses an innovative model of building and facilitating "opt-in coalitions" to unite and galvanize international NGOs—such as Oxfam, Human Rights Watch, Amnesty International, Global Witness and the International Crisis Group—in joint action with grassroots organizations. By designing and supporting the execution of collective advocacy campaigns, all parties increase the impact of their responses to current and emerging conflict-related crises and better protect those working on the ground.
In just six years, Crisis Action has grown from a UK start-up with a single employee to an international organization with 20 staff across seven countries that coordinate a core partner network of 53 NGOs and hundreds of civil society groups across the Middle East and Africa.
Among other achievements, Crisis Action has coordinated joint campaigns to: secure one of the largest UN peacekeeping forces for Darfur; bring those accountable for mass rape in the Democratic Republic of Congo to justice; secure the first ever UN Security Council Presidential Statement on Burma; and support hundreds of Arab NGOs to convince the Arab League to respond to mass violence against civilians in Libya and Syria.
The $750,000 MacArthur Award for Creative and Effective Institutions will help Crisis Action move into its next phase of development by building an operating reserve. The reserve will backstop its expansion and support its strategic planning as its seeks to increase its advocacy and campaigning capacity, strengthen its presence in sub-Saharan Africa, and assess how best to engage with emerging powers such as Brazil, India and South Africa.
More Information