Our Approach to Evaluation
We believe that informed decisionmaking leads to more effective stewardship of resources and better results. It enhances our understanding of our work and, ultimately, helps to guide our thinking using Design/Build. Evaluation results are key inputs into our ongoing learning, and we consider how our learning needs change, with a greater emphasis on understanding context and the landscape earlier on, with more focus on understanding progress, outcomes and our contribution over time. Evaluation is not a one-time event. It is an ongoing process of collecting information and using that information to deploy resources most effectively.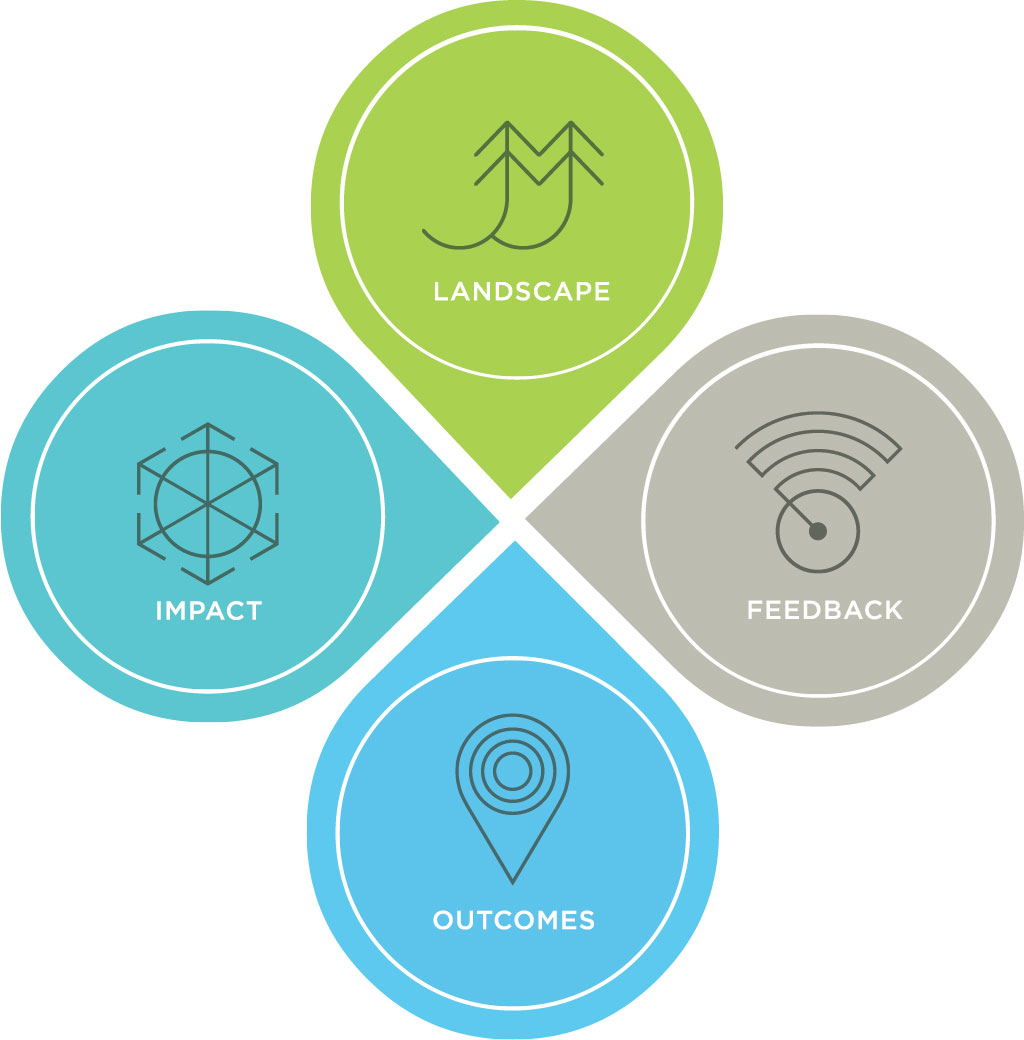 We use evaluation to meet our information and learning needs in four areas:

Landscape


At the broadest level, we engage in landscape evaluation activities to gather information to better understand the context and how variables in the landscape may guide and inform our choices. We aim to be adaptive to evolving contexts and environments over time.
Our primary questions are:
What is the context, what are the social, economic and environmental conditions, and how are they changing over time and place?
What poses a threat, an opportunity, and to what must we be sensitive?

Feedback


More directly related to programmatic work, we focus our evaluation around feedback, including reflection, to inform our relationships with our partners and grantees. We believe that our work can be improved by hearing directly from those we engage with most directly (our partners, our grantees).
Our primary questions are:
What are the inputs, activities, and outputs associated with the program or project?
What is working?
What is not working and why?
What could be improved?

Outcomes


Further, we use outcomes evaluation activities to measure the direct results of the work. These measurement activities are designed to be carried out on-the-ground, as close to our funding and support as possible (e.g., a cluster of grants, a partner, or a grantee). Often these evaluations entail considerable field work.
Our primary questions are:
What are the outcomes and measures?
To what extent is progress being made toward those outcomes?
Are there any unintended outcomes, either positive or negative?

Impact


Over time, we use impact evaluation to better understand the ultimate contributions of the work.
Our primary questions are:
What are the measurable impacts to which the work contributes?
To what extent is progress being made toward those impacts?
What contributions has the program made toward those impacts?
Are there any unintended consequences associated with making progress toward impacts, either positive or negative?
Our Evaluation Principles
Principles that guide our evaluation efforts include the following:
Be ambitious, yet realistic.
Focus on measuring changes of major significance and value
Seek to measure long-lasting, not temporary, change
Prioritize information needs and choose strategically
Recognize that impact is achieved through the efforts of grantees and others
Be rigorous and apply logic while staying flexible.
Adhere to the highest technical standards
Use well-vetted theories of change to guide evaluation and learning activities
Give preference to mixed-methods approaches
Continuously test assumptions
Prioritize learning and be purpose-oriented.
Endeavor to identify successes and failures
Encourage critical thinking and reflection
Keep an eye on the context, and adapt accordingly
Recognize that evaluation is one part of the decision-making process; it is not the only part
Never be punitive
Stay focused on contribution over attribution
Ensure inclusivity and diversity.
Foster collaboration
Incorporate varying perspectives
Share findings and recommendations internally and externally
Demonstrate cultural competence
Be ethical and respectful.
Practice and promote the highest standards of conduct
Communicate in a constructive, honest, and timely manner
Be as transparent as possible
Respect the ideas, time, and resources of others
Use resources responsibly
Protect confidentiality and security
Maximize benefits and avoid harm
About Our Process
The Office of Evaluation exists to address the measurement, evaluation, and learning needs of the Board, President, and Program staff, supporting their ability to live Design/Build. The Office of Evaluation works in partnership with programs, meets staff where they are, identifies program staff's information needs and facilitates processes and activities to address these information needs. To accomplish all of this, the Office of Evaluation engages external evaluation and learning partners. For a digital brochure on our evaluation approach click here.
In the interest of field building, transparency of activities, and accountability, evaluations are publicly posted on the website.
Perspectives
Read expert views from our staff on our Evaluation work ›