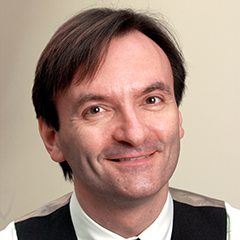 Location
New York, New York
Published October 1, 2001
About Stephen's Work
Stephen Hough is a concert pianist of virtuosic technique and keen musical imagination. Hough's repertoire reflects a passion for adventurous self-expression irrespective of stylistic period or contemporary taste, while his playing is analytical, yet spontaneous, and conforms to no school. Drawing from a singular breadth of interest, knowledge, and talent, Hough delights equally in offering probing interpretations of canonical piano compositions, rediscovering and performing works that have fallen by the historical wayside, and showcasing the new music of contemporary composers. He has also composed and arranged a number of pieces and has produced highly acclaimed transcriptions for solo piano.
Biography
Stephen Hough received a B.Mus. (1981) from the Royal Northern College of Music in Manchester, England, and an M. Mus. (1983) from the Juilliard School in New York City. He has performed with the Cleveland, Emerson, and Juilliard quartets and with most of the major American and European orchestras in such venues as Lincoln Center for the Performing Arts, Royal Festival Hall, and the Concertgebouw in Amsterdam. His numerous recordings have received international acclaim, including his 1998 release, New York Variations, which featured the first recordings of John Corigliano's Etude Fantasy and George Tsontakis's Ghost Variations, and his 2002 release, Camille Saint-Saëns: 5 Piano Concertos.
Recent News
Stephen Hough was given an honorary doctorate from the University of Liverpool in 2011 and made a Commander of the Order of the British Empire (CBE) in the Queen's Honours List in 2014.
Updated July 2015
Select News Coverage of Stephen Hough