MacArthur Fellows / Meet the Class of 2007
Michael Elowitz
Molecular Biologist
California Institute of Technology
Pasadena, California
Age: 37 at time of award
Published January 28, 2007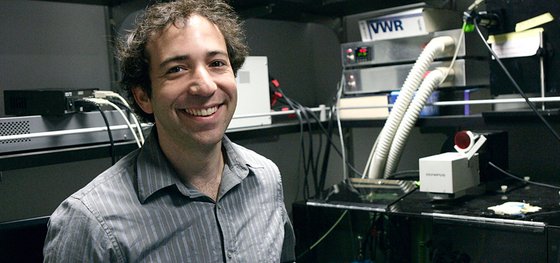 Michael Elowitz is a molecular biologist who is laying the groundwork for the next stage in the genomics revolution — understanding how genes interact. To do so, Elowitz employs a strategy of designing artificial genetic "circuits," first modeling them computationally and then introducing the elements in vivo to test their activity. Experimenting with the first synthetic biological oscillator, he surprised many by demonstrating that even relatively simple negative feedback genetic regulation loops can generate complex behavior within a cell. His work revealed that, because of the low concentration of effector molecules, concepts familiar in electronics such as noise and bistability also find currency in explaining gene regulation. In another critical experiment, Elowitz showed that when two reporter genes with identical regulatory elements were engineered into bacteria they expressed themselves differently and that these differences were due to both intrinsic and extrinsic noise. More recently, he investigated the regulation of a complex stage in normal cellular differentiation of bacilli known as "competence" in which they are temporarily able to incorporate DNA from their external environment. Evidence from imaging studies and mathematical modeling suggest that the underlying genetic circuit consists of both positive and negative feedback loops. Through these and other studies, Elowitz is addressing the long-standing question of how cells can maintain a well-regulated state in a complex and noisy environment.
Michael Elowitz received a B.A. (1992) from the University of California, Berkeley, and a Ph.D. (1999) from Princeton University. Since 2003, he has served as an assistant professor of biology and as an applied physics Bren Scholar at the California Institute of Technology. His numerous articles have appeared in such journals as Science, Nature, and Proceedings of the National Academy of Sciences USA.
Photos
High-resolution photos for download. Photos are owned by the MacArthur Foundation and licensed under a Creative Commons license: CC-BY. Credit: John D. & Catherine T. MacArthur Foundation. Right-click on a link below to save the file to your computer.
What's New