MacArthur Fellows / Meet the Class of 2006
Sarah Ruhl
Playwright
New York, New York
Age: 32 at time of award
Published September 1, 2006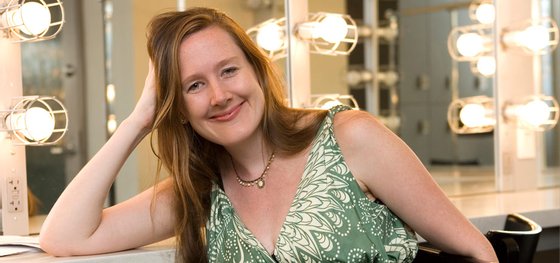 Sarah Ruhl is a fresh, compelling, and versatile playwright. In her play, Eurydice (2003), written while a graduate student at Brown University, Ruhl adapts a classic myth to modern times. Written in sparse, contemporary language, the story is told from the perspective of Eurydice and examines the power of love between husband and wife, and father and daughter. Original in tone and setting, Ruhl captures the pain of loss, the lessening of pain over time, and the necessity of forgetting. The Clean House (2004) is, by turns, humorous, delirious, and finally, poignant. In this quirky and surreal work, she skillfully portrays domesticity, love and sisterhood, and the search for humor at death. Another recent work, Passion Play: A Cycle (2005), is a tour de force in which Ruhl charts the politics of religion from the Elizabethan age to the Reagan era and the power across eras of faith, tyranny, and imagination. Additional plays by this prodigious, young dramatist include Melancholy Play (2002), Dead Man's Cell Phone (2005), and Orlando (2003), an adaptation of the Virginia Woolf novel. This young playwright is emerging as a powerful presence in the American theater.
Sarah Ruhl received a B.A. (1997) in English and an M.F.A. (2001) in playwriting from Brown University and was a Kennedy Center Fellow at the Sundance Theatre Laboratory (2000). Her plays have been produced throughout the U.S. and Europe at such venues as the Lincoln Center Theater, New York, the Actor's Centre, London, the Goodman Theatre, Chicago, and the Berkeley Repertory Theatre, among many others.
Photos
High-resolution photos for download. Photos are owned by the MacArthur Foundation and licensed under a Creative Commons license: CC-BY. Credit: John D. & Catherine T. MacArthur Foundation. Right-click on a link below to save the file to your computer.