MacArthur Fellows / Meet the Class of 2005
Fazal Sheikh
Photographer
Zurich, Switzerland
Age: 40 at time of award
Published September 1, 2005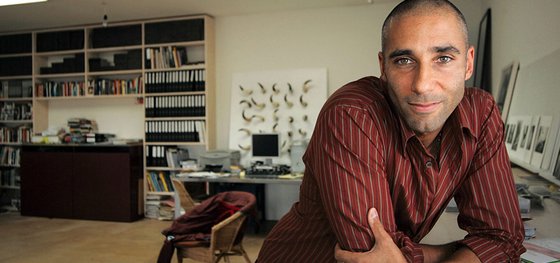 Fazal Sheikh is a documentary photographer who uses the personalizing power of portraiture to bring the faces of the world's displaced people into focus. His subjects have included Sudanese and Somali refugees at camps in Kenya, survivors of the Soviet occupation of Afghanistan, the indigenous people of Pantanal, Brazil, and immigrants crossing, then recrossing, the border between Mexico and the United States. In contrast to sensational, mass-media depictions of humanitarian crises, he takes formal portraits of his subjects – living among them and earning their collaboration. With names printed prominently next to their images, mothers, children, wounded soldiers, and tribal elders assume stately poses, hold pictures of loved ones, and gaze directly at Sheikh's camera, producing understated studies of human dignity under devastating circumstances. Relying on the clarity of black-and-white, naturally lit images, he presents these striking photographs with accompanying texts that describe, in the words of his subjects, the personal histories and circumstances leading to the conditions he records. In addition to completing four books of photography and participating in numerous exhibitions, Sheikh disseminates his work on DVD and via free website to reach the widest international audience possible. With his solemn and arresting works of art, Sheikh slows the act of viewing, calls attention to the persistent nature of conflict, and highlights the importance of bearing witness.
Fazal Sheikh received a B.A. (1987) from Princeton University. Through a photography project he undertook in Kenya as part of a 1992 Fulbright Fellowship in the Arts, Sheikh began his commitment to documenting the lives of refugees. He is the author of four published volumes, A Sense of Common Ground (1996), The Victor Weeps (1998), A Camel for the Son (2001), Ramadan Moon (2001), and Moksha (2005); the latter three books are part of a continuing series on international human rights. His work has been exhibited in solo and group exhibitions at such venues as the Corcoran Gallery of Art, the Art Institute of Chicago, the Seattle Art Museum, and the International Center of Photography, New York. He lives in Zurich, Switzerland, and in New York City.
Photos
High-resolution photos for download. Photos are owned by the MacArthur Foundation and licensed under a Creative Commons license: CC-BY. Credit: John D. & Catherine T. MacArthur Foundation. Right-click on a link below to save the file to your computer.