MacArthur Fellows / Meet the Class of 2005
Julie Mehretu
Painter
New York, New York
Age: 34 at time of award
Published September 1, 2005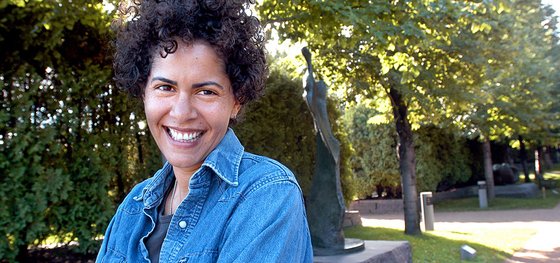 Julie Mehretu is an artist who transforms her canvases into visually spectacular excavations of multiple epochs and locales. As a foundation and point of departure for her work, she depicts public spaces from around the globe – museums, stadiums, and international airports – in the form of heroically-scaled maps and architectural plans. On surfaces encased in coats of transparent resin, she paints over these sprawling drawings a maelstrom of colorful, geometric abstractions, iconic imagery, and loosely figurative markings that evoke a world of associations. Certain sketch marks suggest explosions, while others call to mind the curved backs of pilgrims praying at Mecca, or landscapes flecked with grassy plains. In one work entitled Transcending: The New International (2003), she renders in India ink the buildings and urban plans from all the capital cities of Africa onto one stratified topography; she includes designs from various eras and overlays these diagrams with a tumult of lines tracing the migrations and battlefronts that have crisscrossed this vast terrain. By layering multiple pictorial planes, she creates the illusion of movement, of elements advancing and receding at dizzying speeds within graphically stunning, timeless space. In so doing, Mehretu creates abstract paintings that grant viewers a dazzling glimpse of history's vicissitudes.
Julie Mehretu studied at the University Cheikh Anta Diop, Dakar, Senegal (1990-91) and received a B.A. (1992) from Kalamazoo College in Kalamazoo, Michigan, and an M.F.A. (1997) from the Rhode Island School of Design. She was an artist-in-residence at the Museum of Fine Arts in Houston (1998-99), the Studio Museum in Harlem (2001), and the Walker Art Center, Minneapolis (2002). Her works have appeared in numerous solo and group exhibitions at such venues as the Whitney Museum of American Art, the Carnegie Museum of Art, the Museum of Modern Art, New York, and the Contemporary Arts Museum, Houston. Mehretu lives and works in New York City.
Photos
High-resolution photos for download. Photos are owned by the MacArthur Foundation and licensed under a Creative Commons license: CC-BY. Credit: John D. & Catherine T. MacArthur Foundation. Right-click on a link below to save the file to your computer.