MacArthur Fellows / Meet the Class of 2005
Lu Chen
Neuroscientist
Assistant Professor of Neurobiology
University of California, Berkeley
Berkeley, California
Age: 33 at time of award
Published September 1, 2005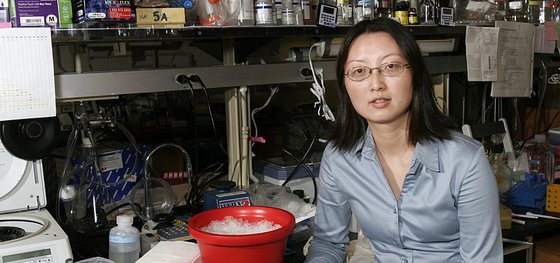 Lu Chen is a neuroscientist who is probing the mysteries of the synapse, the anatomical structure that mediates chemical signals sent from one neuron to another. Specifically, she explores the mechanisms underlying the function of synapses that use the neurotransmitter glutamate (the most common excitatory neurotransmitter in the central nervous system). This transmitter interacts with postsynaptic neurons with several different types of receptors: kainate, NMDA, and AMPA. Studies of a genetically mutated mouse strain showed that AMPA receptor function is disrupted by the lack of stargazin, a protein homologous with a subunit of the calcium channel. Through a combination of molecular genetic, cell biology, biochemical, and electrophysiologic approaches, Chen and her colleagues were able to demonstrate that stargazin plays a key role in the structural integrity of the AMPA receptor complex. Chen created a line of non-neuronal cells that express each of the AMPA receptor components; in co-culture with hippocampal neurons, she showed that the neurons induced the formation of functional AMPA receptors in the non-neuronal cell line, and that stargazin represents an essential element of the receptor assembly. This observation opens a new avenue for exploring the role of accessory proteins in synaptic formation and plasticity. The potential impact is tremendous not just for understanding the basic biology of learning and memory, but also in the development of new kinds of treatments for neurological and psychiatric diseases.
Lu Chen received a B.S. (1993) from the University of Science and Technology of China, and a Ph.D. (1998) from the University of Southern California. Chen was a postdoctoral fellow at the University of Southern California (1998-99) and the University of California San Francisco (1999-2002). Since 2003, she has been an assistant professor of neurobiology at the University of California, Berkeley, where she is also a member of the Helen Wills Neuroscience Institute. Her research has been published in such academic journals as Nature, the Journal of Neuroscience, and the Proceedings of the National Academy of Sciences USA.
Photos
High-resolution photos for download. Photos are owned by the MacArthur Foundation and licensed under a Creative Commons license: CC-BY. Credit: John D. & Catherine T. MacArthur Foundation. Right-click on a link below to save the file to your computer.