MacArthur Fellows / Meet the Class of 2005
Majora Carter
Urban Revitalization Strategist
Founder and Executive Director
Sustainable South Bronx
Bronx, New York
Age: 38 at time of award
Published September 1, 2005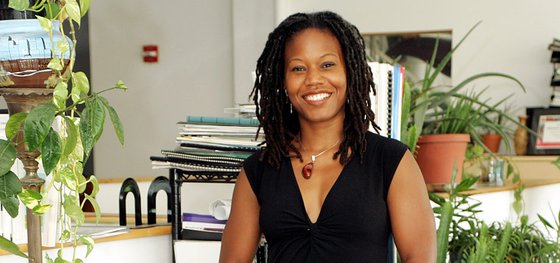 Majora Carter, of the South Bronx, is determined to make her community more livable, greener, and healthier than it is today. The founder and director of Sustainable South Bronx (SSB), Carter is a relentless and charismatic urban strategist who seeks to address the disproportionate environmental and public health burdens experienced by residents of the South Bronx. Working in partnership with local government, businesses, and neighborhood organizations, she creates new opportunities for transportation, fitness and recreation, nutrition, and economic development. Returning to her native Hunts Point section of the South Bronx after completing an MFA, Carter first sought to deepen the emphasis on the arts in the South Bronx. It wasn't long, however, before she was engaged in battle over New York City's plan for a solid waste management plant to process 40 percent of the city's garbage at a facility on the Hunts Point waterfront. Successfully diverting this plan, SSB and other groups envisioned a new relationship with the Bronx River and embarked on projects that built a park on the site of a former concrete plant, enabled public waterfront access where the shore was once littered with industrial scrap, developed an ecological restoration workforce to protect and maintain the natural environment, and raised funds to conduct a feasibility study for the establishment of a bike/pedestrian greenway along the waterfront. Making the connection between green space and health, Carter added a community education focus to the work of the SSB around fitness, food choices, and air quality. As part of this effort, she established a community market and introduced green roof technology. Today, Majora Carter is profoundly transforming the quality of life for South Bronx residents.
Majora Carter received a B.A. (1988) from Wesleyan University and an M.F.A. (1997) from New York University. Carter served as project director (1997-98) and associate director of community development (1998-2001) for The Point Community Development Corporation, working on youth development and community revitalization in Hunts Point. She founded Sustainable South Bronx in 2001 and serves as its executive director.
Photos
High-resolution photos for download. Photos are owned by the MacArthur Foundation and licensed under a Creative Commons license: CC-BY. Credit: John D. & Catherine T. MacArthur Foundation. Right-click on a link below to save the file to your computer.