MacArthur Fellows / Meet the Class of 2005
Marin Alsop
Orchestra Conductor
Bournemouth Symphony Orchestra
Poole, United Kingdom
Age: 48
Published September 1, 2005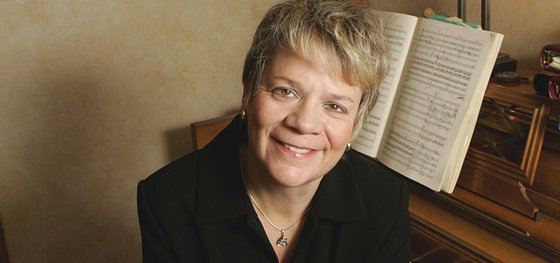 Marin Alsop, principal conductor of the Bournemouth Symphony Orchestra and music director of the Cabrillo Festival of Contemporary Music, is among the most accomplished conductors working today. In addition to her masterful conducting technique and visionary artistic programming, Alsop is distinguished by her extraordinary ability to communicate, both with her orchestra and with her audience, successfully translating her musical ideas into symphonic sound with a signature style. In presenting concerts, she often addresses audiences directly and previews short passages demonstrating themes and motifs of pieces to be played. These engaging presentations demystify challenging music for a wide range of audiences. While honoring classical music heritage, Alsop is also deeply committed to bringing the work of living composers to orchestras, audiences, and critics around the world. Her discography ranges from gospel recordings to traditional symphonies to the music of contemporary American composers. Through her musicality, her skill in making the unusual understandable, and her championing of contemporary music, Alsop defies stereotypes and offers a new model of leadership for orchestras in the U.S. and abroad.
Marin Alsop studied at Yale University (1973-75) and received a B.M. (1977) and an M.M. (1978) from The Juilliard School. As a violinist, she performed with the New York Philharmonic, the New York City Ballet, the New York Chamber Symphony, and the American Composers Orchestra, among others. She studied conducting with Carl Bamberger, Harold Farberman, Leonard Bernstein, Gustav Meier, and Seiji Ozawa, and served as music director for the Eugene Symphony Orchestra (Oregon) and the Long Island Philharmonic (1989-95). In 1991, she was appointed music director of the Cabrillo Music Festival, and in 1993, music director of the Colorado Symphony. Alsop assumed her current position, principal conductor of the Bournemouth Symphony Orchestra, in 2001. Beginning September of 2007, Alsop will become the music director of the Baltimore Symphony Orchestra.
Photos
High-resolution photos for download. Photos are owned by the MacArthur Foundation and licensed under a Creative Commons license: CC-BY. Credit: John D. & Catherine T. MacArthur Foundation. Right-click on a link below to save the file to your computer.
About the Fellows Program
The MacArthur Fellows Program awards unrestricted fellowships to talented individuals who have shown extraordinary originality and dedication in their creative pursuits and a marked capacity for self-direction. Learn More
Yitang Zhang, Mathematician
Class of 2014