MacArthur Fellows / Meet the Class of 2004
Julie Theriot
Microbiologist
Assistant Professor of Biochemistry and Microbiology and Immunology
Stanford University
Stanford, California
Age: 36 at time of award
Published September 28, 2004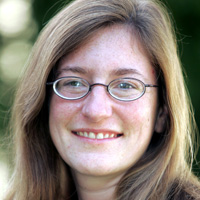 Julie Theriot is a microbiologist, cell biologist, and biophysicist who is unraveling the secrets of bacterial infection. One strategy that some bacteria use to evade the immune system is to trick cells lining exposed surfaces (such as the digestive tract) into absorbing the bacteria; after several cell divisions, the bacteria propel themselves through the cell wall into adjacent cells, where the process is repeated. Theriot's research focuses on the mechanism of bacterial propulsion, specifically on the role of the structural protein actin. In early publications, Theriot showed how bacteria can commandeer the normal role of actin within the cell by inducing the formation of long bundles of actin filaments that resemble the tail of a comet. These actin comet tails then propel the attached bacterium forward. Theriot designed several experimental protocols that allow for detailed analysis of the biomechanics of this process – measuring the forces generated and determining the necessary and sufficient conditions for actin comet-tail formation. Through her research, Theriot illuminates basic biophysical processes underlying movement of cells and the pathogens that invade them.
Julie Theriot received a B.S. (1988) from the Massachusetts Institute of Technology and a Ph.D. (1993) in cell biology from the University of California, San Francisco, where she was a Howard Hughes Medical Institute Predoctoral Fellow (1988-1993). Theriot was a fellow at the Whitehead Institute for Biomedical Research (1993-1997) before becoming an assistant professor in the Departments of Biochemistry and Microbiology and Immunology at Stanford University Medical School in 1997. Her research has been published in such academic journals as Nature, Proceedings of the National Academy of Sciences USA, and the Journal of Cell Biology.
Photos
High-resolution photos for download. Photos are owned by the MacArthur Foundation and licensed under a Creative Commons license: CC-BY. Credit: John D. & Catherine T. MacArthur Foundation. Right-click on a link below to save the file to your computer.
What's New