MacArthur Fellows / Meet the Class of 2004
Reginald R. Robinson
Ragtime Pianist and Composer
Chicago, Illinois
Age: 31 at time of award
Published September 28, 2004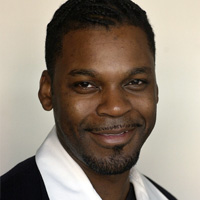 Reginald R. Robinson is a musician and composer who chose an unusual path for his musical career: classical ragtime music. An early 20th century American musical form characterized by a syncopated melody, ragtime was advocated by composers such as Scott Joplin as a uniquely American music that would change and evolve with the succeeding years. Introduced to ragtime through an elementary school presentation, Robinson taught himself to play the piano and to read music and began researching the genre. He has remained dedicated to the form ever since. A gifted pianist, he evokes the range of passion and liveliness contained within the classic ragtime compositions of the early 1900s. He has explored in detail the great works of Scott Joplin, Eubie Blake, and other classical ragtime composers and has composed dozens of harmonically daring, structurally complex works. In addition to his composition and performance, Robinson has studied the history of ragtime music thoroughly; he discovered and recorded a previously unknown Joplin fragment found in the archives of Fisk University. This singular musician has devoted himself to preserving the traditions of classical ragtime while taking this vintage music into contemporary directions.
Reginald R. Robinson was captivated by the sound of ragtime at the age of 13. In 1992, he recorded his first demo and was immediately signed by Delmark Records. His published recordings include The Strongman (1993), Sounds in Silhouette (1994), Euphonic Sounds (1998), and Man Out of Time (2003). Robinson's work also appears in several jazz and blues compilations. He has performed in Europe and across the U.S. at such venues as the Chicago Jazz Festival, Ravinia, and the Gilmore Keyboard Festival.
Photos
High-resolution photos for download. Photos are owned by the MacArthur Foundation and licensed under a Creative Commons license: CC-BY. Credit: John D. & Catherine T. MacArthur Foundation. Right-click on a link below to save the file to your computer.