MacArthur Fellows / Meet the Class of 2004
Aminah Robinson
Folk Artist
Columbus, Ohio
Age: 64 at time of award
Deceased: May 22, 2015
Published September 28, 2004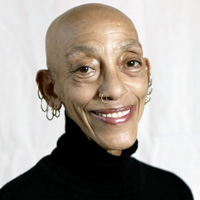 Aminah Robinson uses fabric, needlepoint, paint, ink, charcoal, clay, and found objects to create signature works on canvas and in three-dimensional construction. Folk artist, storyteller, and visual historian, Robinson celebrates and memorializes the neighborhood of her childhood – Poindexter Village in Columbus, Ohio—and her journeys to and from her home. In drawings, paintings, sculpture, puppetry, and music boxes, she reflects on themes of family and ancestry, and on the grandeur of simple objects and everyday tasks. Her works are both freestanding monuments and fractional components of an ongoing odyssey. Robinson is a master of assemblage; her elegant collages are Homeric in content, quantity, and scale (some canvases are 20 feet or larger) and many of her exhibited pieces are works-in-progress, several years in the making. This trademark body of work resonates deeply with audiences. Symphonic Poem, for example, an exhibition of her work at the Columbus Museum of Art, was noted for its unusually large and repeat attendance. A recent commission for the National Underground Railroad Freedom Center in Cincinnati, Ohio, is also expected to reach a large audience. Robinson's creations set her apart as a contemporary American artist.
Aminah Robinson studied painting at the Columbus College of Art and Design. While working as an artist from her home studio throughout her life, she also worked for the Columbus Public Library and, for nineteen years, ran children's programs in the Columbus Parks and Recreation Department. Her work has been exhibited in solo and group shows at museums and galleries around the country. In addition, she has illustrated several books for children, including A School for Pompey Walker (1995), A Street Called Home (1997), and To Be a Drum (2000). (Deceased, May 22, 2015.)
Photos
High-resolution photos for download. Photos are owned by the MacArthur Foundation and licensed under a Creative Commons license: CC-BY. Credit: John D. & Catherine T. MacArthur Foundation. Right-click on a link below to save the file to your computer.