MacArthur Fellows / Meet the Class of 2004
Judy Pfaff
Sculptor and Installation Artist
Professor of Art
Bard College
Annandale-on-Hudson, New York
Age: 58 at time of award
Published September 28, 2004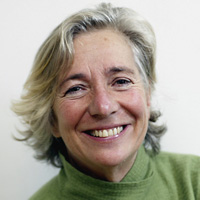 Judy Pfaff is an artist in the midst of a prolific career as a sculptor, installation artist, painter, and printmaker. At the heart of her work is her exploration of how to make painting more three-dimensional and sculpture more painterly. From the beginning of her career in the 1970s, she has worked with a wide and unusual range of materials and has inspired younger artists to venture outside the traditional distinctions made between painting and sculpture. Pfaff moves back and forth easily between two- and three-dimensional work, creating art that is complex, profuse, and unique. Her dynamic, exuberant, large-scale (and typically site-specific) installations incorporate local materials and combine painting, sculpture, and architecture. These works include carefully crafted elements of her own making with found materials, both man-made and natural, to create protean forms of rich complexity. While primarily a sculptor, Pfaff's concepts are expressed in equal power in her paintings, prints, and drawings. Her work continues to evolve, and she has recently begun to explore the incorporation of photographic/digital imagery into her installations and prints.
Judy Pfaff received a B.F.A. (1971) from Washington University, St. Louis, and an M.F.A. (1973) from Yale University. Since 1971, she has held numerous visiting faculty appointments at such institutions as the California Institute of Arts, Yale University, the Rhode Island School of Design, Oberlin College, and Princeton University. Pfaff was a member of the graduate faculty at the School of Visual Arts, New York (1986–1991), and a professor of visual arts at Columbia University (1992–1994). Since 1994, she has been a professor of art at Bard College. She has mounted more than 100 solo exhibitions and installations and participated in more than 200 group exhibitions. Her work appears in the collections of the Museum of Modern Art, New York, and the Whitney Museum of American Art.
Photos
High-resolution photos for download. Photos are owned by the MacArthur Foundation and licensed under a Creative Commons license: CC-BY. Credit: John D. & Catherine T. MacArthur Foundation. Right-click on a link below to save the file to your computer.
What's New