MacArthur Fellows / Meet the Class of 2004
Vamsi Mootha
Clinical Molecular Biologist
Assistant Professor of Systems Biology
Harvard Medical School
Boston, Massachusetts
Age: 33 at time of award
Published September 28, 2004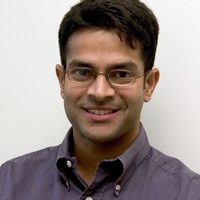 Vamsi Mootha is a clinician-researcher who converts the promise of new technologies such as genomics and proteomics into tangible, important insights regarding basic biological processes and the sources of human diseases. He specializes in the subcellular structures responsible for energy metabolism: the mitochondria. Recently, Mootha and colleagues have isolated peptide fragments from these organelles and identified them with mass spectroscopy. By comparing the protein fingerprints with gene expression databases, more than 100 previously unknown mitochondrial proteins were identified. He used a similar, coordinated approach to identify the gene that causes Leigh Syndrome French Canadian variant, a fatal metabolic disease. In diseases resulting not from a single gene but the interaction of sets of genes, he introduced a computational method for identifying patterns of gene activity in specific diseases. In type 2 diabetes, for example, this method has identified aberrations in the regulation of genes related to a specific metabolic pathway, an observation that may provide important clues to the cause of a prevalent and devastating condition. As importantly, Mootha has pioneered powerful, adaptable computational strategies for mining data collected in laboratories throughout the world, providing an efficient means to hunt down gene interactions that lead to a wide variety of diseases.
Vamsi Mootha received a B.S. (1993) from Stanford University and an M.D. (1998) from Harvard University Medical School. He completed his internship and residency in internal medicine at the Brigham and Women's Hospital (1998–2001). In September 2004, he completed a postdoctoral fellowship at the Whitehead and Broad Institutes and an instructorship in medicine at Brigham and Women's Hospital, Harvard Medical School. His research has been published in journals such as Proceedings of the National Academy of Sciences USA, Cell, and Nature Genetics.
Photos
High-resolution photos for download. Photos are owned by the MacArthur Foundation and licensed under a Creative Commons license: CC-BY. Credit: John D. & Catherine T. MacArthur Foundation. Right-click on a link below to save the file to your computer.