MacArthur Fellows / Meet the Class of 2004
David Green
Technology Transfer Innovator
Executive Director
Project Impact
Berkeley, California
Age: 48 at time of award
Published September 28, 2004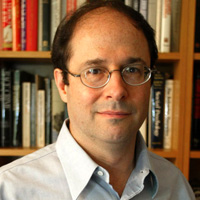 David Green is a pioneer in the manufacture and distribution of advanced health care products for patients in the developing world who could not otherwise afford them. He organizes engineers, technical experts, distribution partners, and financiers to create production facilities capable of making high-quality products at very low cost. In India, Green established Aurolab to manufacture intraocular lenses (IOLs)—plastic implants used to restore sight to patients suffering from cataracts and other eye diseases. On a self-sustaining basis, Aurolab produces hundreds of thousands of lenses annually at a fraction of the costs in developed countries and distributes them in more than 85 countries. The company is now one of the largest manufacturers of IOLs in the world. By expanding Aurolab's manufacturing capacity to include low-cost needles and sutures, Green has opened opportunities to restore vision and treat other diseases for millions of people. Green is now developing digitally programmable, inexpensive hearing aids designed to become nonfunctional if any effort is made to resell them in markets other than the intended ones (i.e., those where widespread poverty makes such devices otherwise unobtainable). By applying traditional business strategies in untraditional markets, Green has addressed important public health challenges and improved the lives of populations around the world.
David Green received a B.A. (1978) and an M.P.H. (1982) from the University of Michigan, Ann Arbor. In 1983, Green began working with the Seva Foundation's Sight Program at Aravind Eye Hospital in Madurai, India, and participated in the establishment of Aurolab in 1992. In 2000, he founded Project Impact, Inc., a nonprofit organization that works to develop, manufacture, and distribute affordable medical technologies to communities in India, Nepal, Tanzania, Egypt, Malawi, El Salvador, and Guatemala.
Photos
High-resolution photos for download. Photos are owned by the MacArthur Foundation and licensed under a Creative Commons license: CC-BY. Credit: John D. & Catherine T. MacArthur Foundation. Right-click on a link below to save the file to your computer.