MacArthur Fellows / Meet the Class of 2004
Katherine Gottlieb
Alaskan Health Care Leader
President and CEO
Southcentral Foundation
Anchorage, Alaska
Age: 52 at time of award
Published September 28, 2004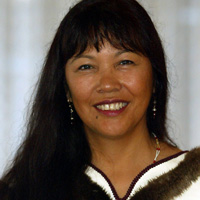 Katherine Gottlieb has transformed health care and related health programs in her Native Alaskan community. As head of the nonprofit Southcentral Foundation, Gottlieb recast the organizational focus toward patient-centered health care and away from on mass delivery of social welfare to underprivileged populations. In the process, she elevated the quality of service to the highest standard of medical care while decreasing the demand on the most expensive resources. The reach of Gottlieb's programs extends well beyond primary care. The Dena A Coy Residential Treatment Center is the first residential facility for pregnant women in the United States focused on preventing fetal alcohol syndrome. Pathway Home, a transitional living center, addresses the challenges of substance abuse, violence, and suicide among Native Alaskan teenagers. With the Family Wellness Warriors Initiative, Gottlieb seeks to revitalize the traditional role of Native Alaskan men as protectors and providers, making them less inclined to fall into a pattern of domestic abuse. Under Gottlieb's leadership, the Southcentral Foundation network has demonstrated that high-quality health care and effective preventive services are possible, even in communities facing obstacles of poverty and geographic isolation.
Katherine Gottlieb began her career as a community health aide in her hometown of Seldovia, Alaska, in 1987. In 1987, she took a position as a receptionist with the then five-year-old Southcentral Foundation. She then earned a B.A. (1990) and an M.B.A. (1995) with an emphasis on public health from Alaska Pacific University and rose to the position of president and CEO. Gottlieb has spearheaded the growth of Southcentral Foundation, developing more than 75 medical, behavioral health, and community programs that serve more than 40,000 Native Alaskans and their families.
Photos
High-resolution photos for download. Photos are owned by the MacArthur Foundation and licensed under a Creative Commons license: CC-BY. Credit: John D. & Catherine T. MacArthur Foundation. Right-click on a link below to save the file to your computer.