MacArthur Fellows / Meet the Class of 2004
James Carpenter
Glass Technologist
President
James Carpenter Design Associates, Inc.
New York, New York
Age: 55 at time of award
Published September 28, 2004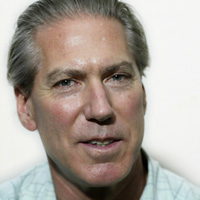 James Carpenter is an innovative glass sculptor, engineer, and designer who expands the artistic and technical potential of glass. Carpenter envisions and translates the aesthetic and imaginative possibilities of glass into built environments. His work draws from architecture, engineering, materials science, and sculpture, extending the boundaries of each. In collaboration with architects and engineers from around the world, Carpenter creates fluid and elegant designs that incorporate new fabrication technologies to address contemporary environmental and energy considerations. He also reveals new ways for light, modulated through glass structural materials, to enrich the visual experience of architectural space. His works range from a blue glass bridge in Seattle's City Hall, to a suspended glass wall atrium in London's "Glass Tube Field," to light-modulating canopies in the Phoenix Federal Courthouse, to a plan for a prismatic, partially transparent exterior for the reconstruction of Seven World Trade Center in New York. With his unique combination of aesthetic sensibility and technological acumen, Carpenter redefines our understanding of the power of glass as a means for reshaping light and space.
James Carpenter received a B.F.A. (1972) from the Rhode Island School of Design. As a consultant to the Corning Glass Works (1972–1982), he conducted research on the architectural applications of new glass materials with enhanced technical capabilities. In 1978, he formed the collaborative studio, James Carpenter Design Associates (JCDA).
Photos
High-resolution photos for download. Photos are owned by the MacArthur Foundation and licensed under a Creative Commons license: CC-BY. Credit: John D. & Catherine T. MacArthur Foundation. Right-click on a link below to save the file to your computer.