MacArthur Fellows / Meet the Class of 2003
Daisy Youngblood
Sculptor
Santa Fe, New Mexico
Age: 58 at time of award
Published October 5, 2003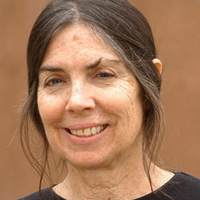 Daisy Youngblood is a sculptor whose figurative forms in clay and cast bronze convey intense emotional complexity. Employing traditional hand-modeling techniques, Youngblood constructs sculptures of animals, humans, and haunting hybrids of the two; among her subjects are hulking gorillas, mournful elephants, horses, goats, and fantastical hawk-women. Rather than distancing themselves as exotic, threatening beasts, Youngblood's figures evoke a sense of vulnerability, with bodies bent, twisted, and fragmented. She further humanizes these assorted creatures by giving them an inhabitable quality; their eyeless faces and hollow bodies inspire a reaction of empathy, drawing the viewer's gaze inward into an empty space beyond their fragile shells. Her chosen material of the earth itself imbues her work with ancient, archetypal attributes and bears a symbolic relationship to the various mythological traditions her imagery calls to mind. Through their rough contours, scarred surfaces, and pared-down forms, Youngblood's pieces invite comparisons to both prehistoric cave painting and abstract expressionism, bringing about an unexpected convergence of two dramatically disparate periods of art history. With her aptitude for molding psychological vitality into lifeless clay, Youngblood creates striking contemporary sculptures with immediate, visceral, and enduring impact.
Daisy Youngblood attended Virginia Commonwealth University (1963–66). Since 1979, she has had numerous solo and group exhibitions both in the United States and elsewhere, including New York, San Francisco and Milan, Italy. Youngblood's work is included in the permanent collection of the Toledo Museum of Art.
Photos
High-resolution photos for download. Photos are owned by the MacArthur Foundation and licensed under a Creative Commons license: CC-BY. Credit: John D. & Catherine T. MacArthur Foundation. Right-click on a link below to save the file to your computer.