MacArthur Fellows / Meet the Class of 2003
Sarah Sze
Sculptor
New York, New York
Age: 34
Published October 5, 2003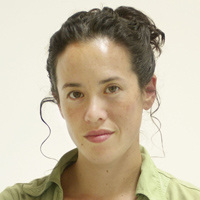 Sarah Sze is an artist who uses ordinary objects to create strikingly original sculptures and site-specific installations. Her intricate works, each of which she constructs by hand, consist of unexpected and carefully arranged combinations of materials, such as plastic plants, candies, packing materials, nails, small desk fans, aluminum ladders, and occasional drips of water. Sze transforms these everyday objects into gravity-defying works in horizontal and tower-like formations that zigzag into the heights of gallery spaces. Finding inspiration from architecture and art history, Sze creates exuberant installations that provide the viewer with a sense of wonder, visual pleasure, and a novel way to look at familiar space.
Sarah Sze received a B.A. (1991) from Yale University and an M.F.A. (1997) from the School of Visual Arts, New York. She has had solo exhibits at the Museum of Contemporary Art, Chicago, the Museum of Fine Arts, Boston, the Institute of Contemporary Art, London, and the Fondation Cartier, Paris. Sze has participated in group shows in venues such as the Whitney Museum of American Art, New York, the Carnegie Museum of Art, Pittsburgh, the Akademie der Kunste, Berlin, and the 48th Venice Biennial.
Photos
High-resolution photos for download. Photos are owned by the MacArthur Foundation and licensed under a Creative Commons license: CC-BY. Credit: John D. & Catherine T. MacArthur Foundation. Right-click on a link below to save the file to your computer.
About the Fellows Program
The MacArthur Fellows Program awards unrestricted fellowships to talented individuals who have shown extraordinary originality and dedication in their creative pursuits and a marked capacity for self-direction. Learn More
Jennifer L. Eberhardt, Social Psychologist
Class of 2014